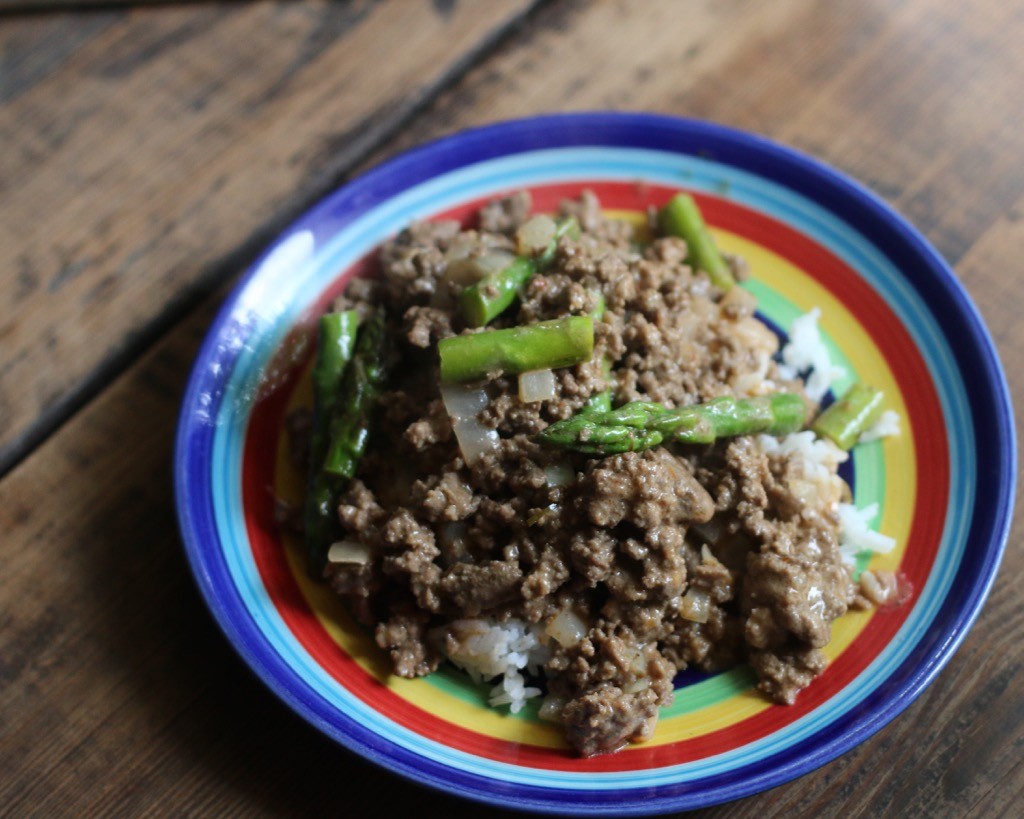 I make a regular habit of picking up two pounds of ground chuck whenever I'm in the vicinity of my meat purveyor.  Laying down bulgogi burgers on a whim or whipping up a meatloaf are all within reach with beef and some pantry staples.  And so it was the other night with my lovely wife on the road and a trying day at work behind me as I faced the task of putting dinner on the table.  Meatloaf was my first thought but I could detect some resistance from the kids.  Not enough resistance mind you to either a.) make a constructive suggestion about what they would like or heaven forbid b.) offer to transform the ground chuck into the meal of our collective dreams.
With only the promise of rancor facing me on the meatloaf front and a personal desire to find some chemical heat to diffuse stress I settled on a Thai Curry Beef - made with burger meat instead of the more traditional whole muscle cuts.
In order to keep the grease within manageable tolerances I pre-browned the meat and sautéed the onions and drained the grease before proceeding with the sauce.
I put on a pot of rice before browning the meat.  By the time the sauce thickened and I added back the beef and onion mixture all was ready to serve. It's not much to look at in the picture but the fragrance of the kaffir lime leaves and the red curry paste colluded to create a distinctly thai flavored goulash.
I served it with a simple thai cucumber/onion salad.
Ingredients
2 tbs curry paste
2 tbs palm sugar
2 tbs fish sauce
3-4 kafir lime leaves
15 oz coconut milk
15 oz crushed tomatoes
2 lb ground beef
1 onion sliced thinly
Directions
brown beef in a frying pan
add onions and continue to brown until onions become soft
drain beef and onion mixture and reserve
add 1 tbs oil of your choice and stir in curry paste
toss in remaining ingredients and let stew for a few minutes
add beef/onion mixture back in and stir to coat
serve over rice
More delicious recipes
This one of the many fanastic recipes available on this blog