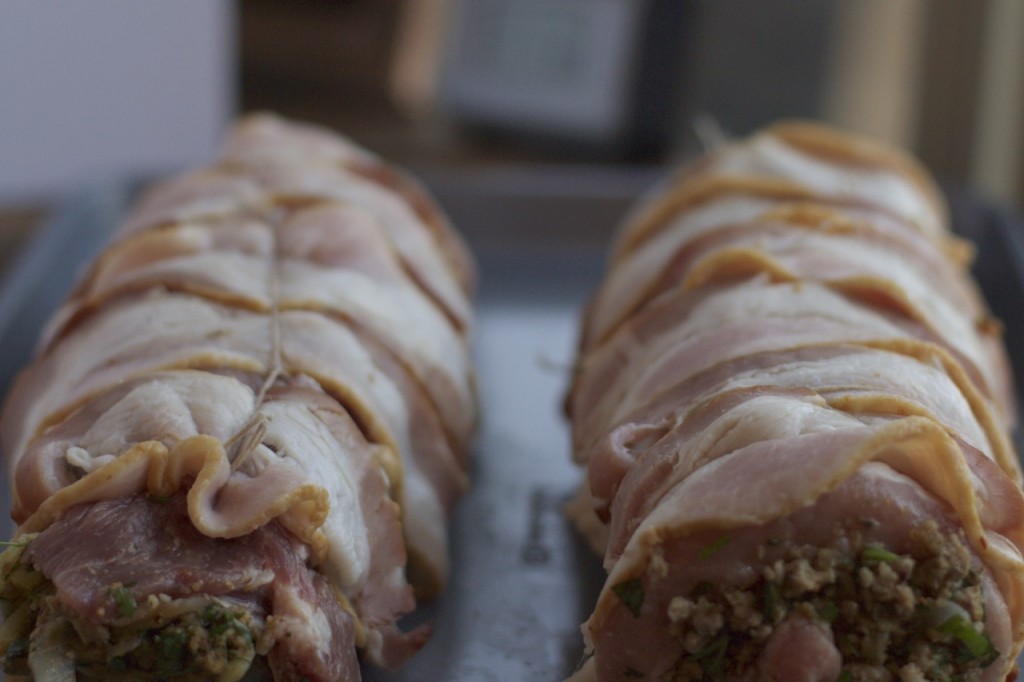 It's funny how food traditions begin and perpetuate.  Is it conceivable that those that do not ingest pork and sauerkraut on New Years day suffer ill will in the coming year?  The South didn't get that message as the grocery stores overflow with Collard Greens, Hopping John and Ham hocks.  Have you noticed the abundance of Brisket at the meat counter?
2014 has been a great year and as I planned the menus for the final week of 2014 I wanted to ensure that all of my bases were covered.  I scored some brisket for post New Year bulgogi sliders which left me to cover the pork and greens for New Years.
It is likely that the Italian Porchetta comes closest to being the pork dish of pork dishes.  Traditionally prepared by deboning a whole pig and stuffing it with meat and heavy aromatics, rolled, tied and spit cooked.  More modest adaptations focus on doing much the same with a skin on pork belly.  The skin crisps as the fat is rendered and provides the contrast of the crunchy skin with the tender pork.
There are a lot of outstanding recipes for a pork belly porchetta on the interwebs (this one is on my list for sure Serious Eats deep fried 36 hour sous vide porchetta).
That said, aside from the lovely (and quite accidental) wifely purchase of a five pound slab of Nueske's applewood smoked bacon two years ago my clan doth protest loudly when pork belly arrives in the kitchen.
So is it possible to create a pork dish that reaches the heights of Porchetta without a whole deboned pig or a 7 pound slab of pork belly?
Enter the porkporkon?  Inspired by the turducken, rouladen and porchetta this dish starts with a butterflied pork loin - a relatively lean cut of pork, ground pork for a filling (which will provide moisture and internal basting) and wrapped in bacon for that crispy exterior.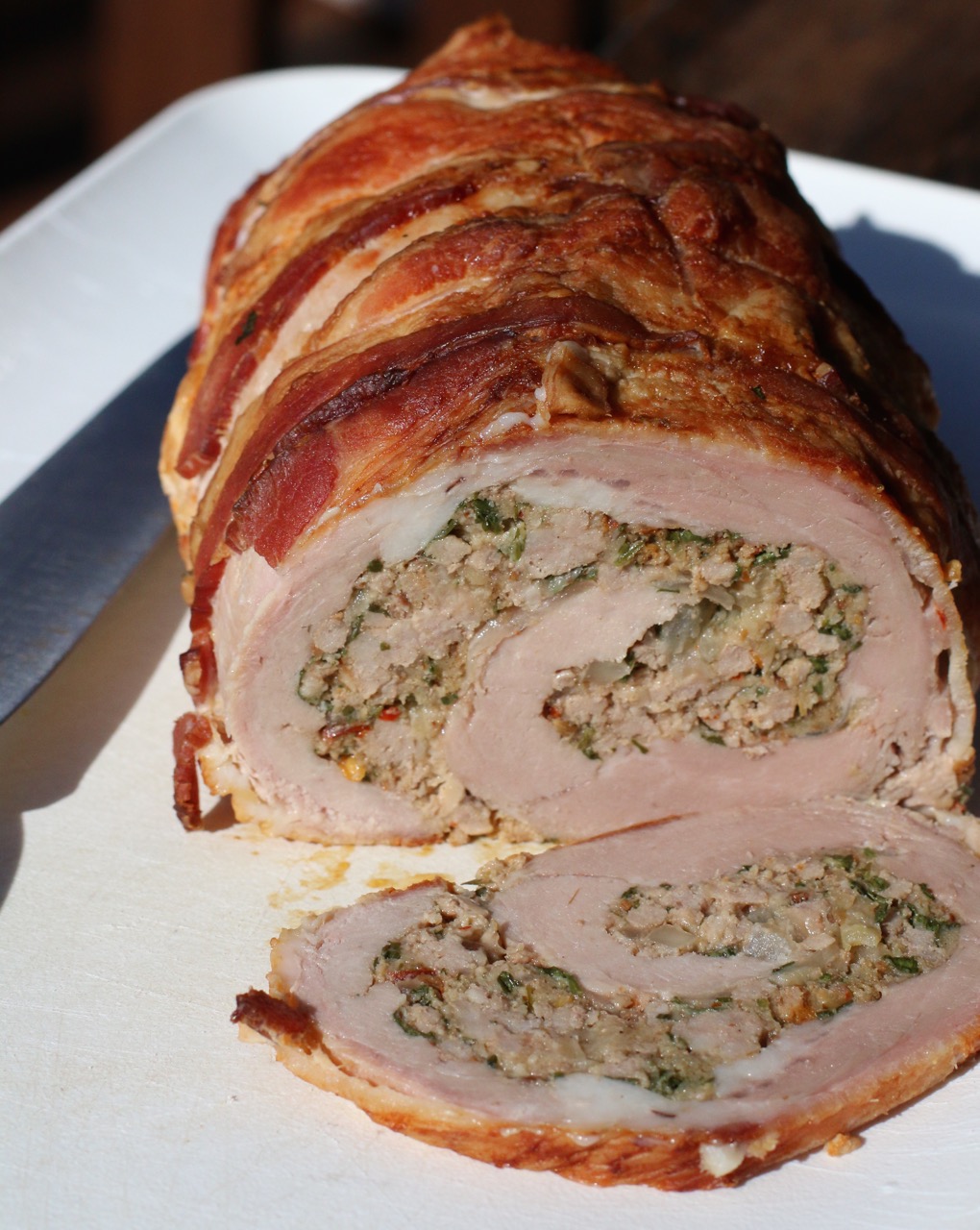 I would suggest cooking this either on a slotted rack or slice a few onions thickly into the pan before placing roast on top of them.  This will ensure that the fat renders and the outside will become and remain crispy.
I served this for sandwiches so I chilled it overnight and sliced it thinly.  If you can't resist and are serving it warm, slice into generous 3/4 inch slices and serve.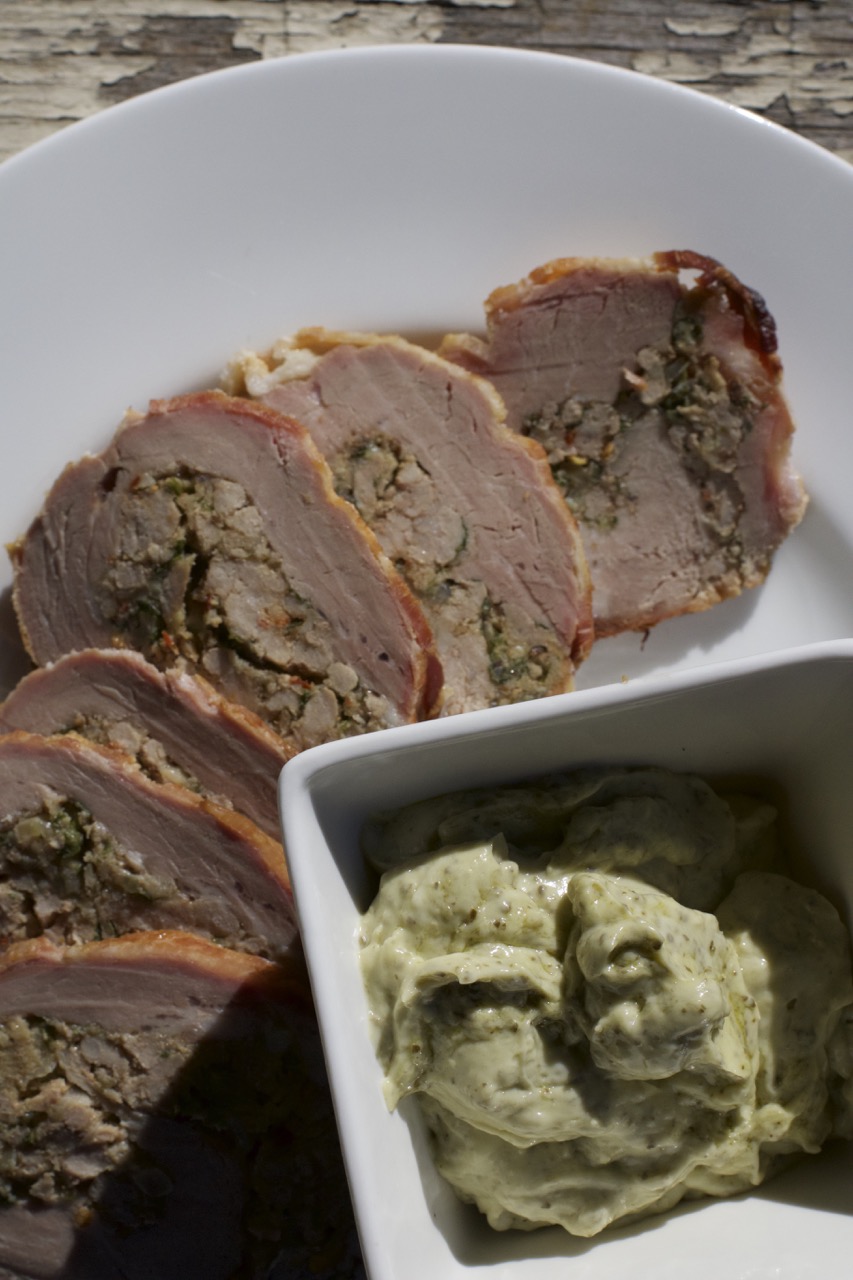 Served the next day with a basil mayonnaise this dish will feed a small army. (Totally cheated here and used two tablespoons of store bought pesto mixed into mayo)
I didn't want to go through all of this effort to ensure luck in 2015 and neglect the greens so I served a side of kale-apple slaw.
adapted from Mario Batali's Arista alla Porchetta
Ingredients
4 1/2 lb pork loin, butterflied
2 lbs ground pork
3 tbs fennel seed
1 fennel bulb, thinly sliced
1 onion, sliced into crescents
2 tbs red pepper flakes
6 cloves garlic, shaved
1 lemon zested
1 cup bread crumbs
2 eggs beaten
1/4 cup parsley, chopped
10 strips bacon
salt
Directions
saute onion and sliced fennel
add ground pork and saute until lightly browned
cool pork mixture
mix spices, bread crumbs and eggs together into a thick paste
preheat oven to 425
smear an even layer of the pork mixture on the butterflied loin
Wrap tightly
lay bacon slices out on cutting board and wrap around exterior of rolled loin
using butcher's twine, tie roast every 1/2 inch
cook for 75 minutes or until internal temp reaches 140
remove and let rest for at least 10 minutes - the temperature will continue to rise
More delicious recipes
This one of the many fanastic recipes available on this blog