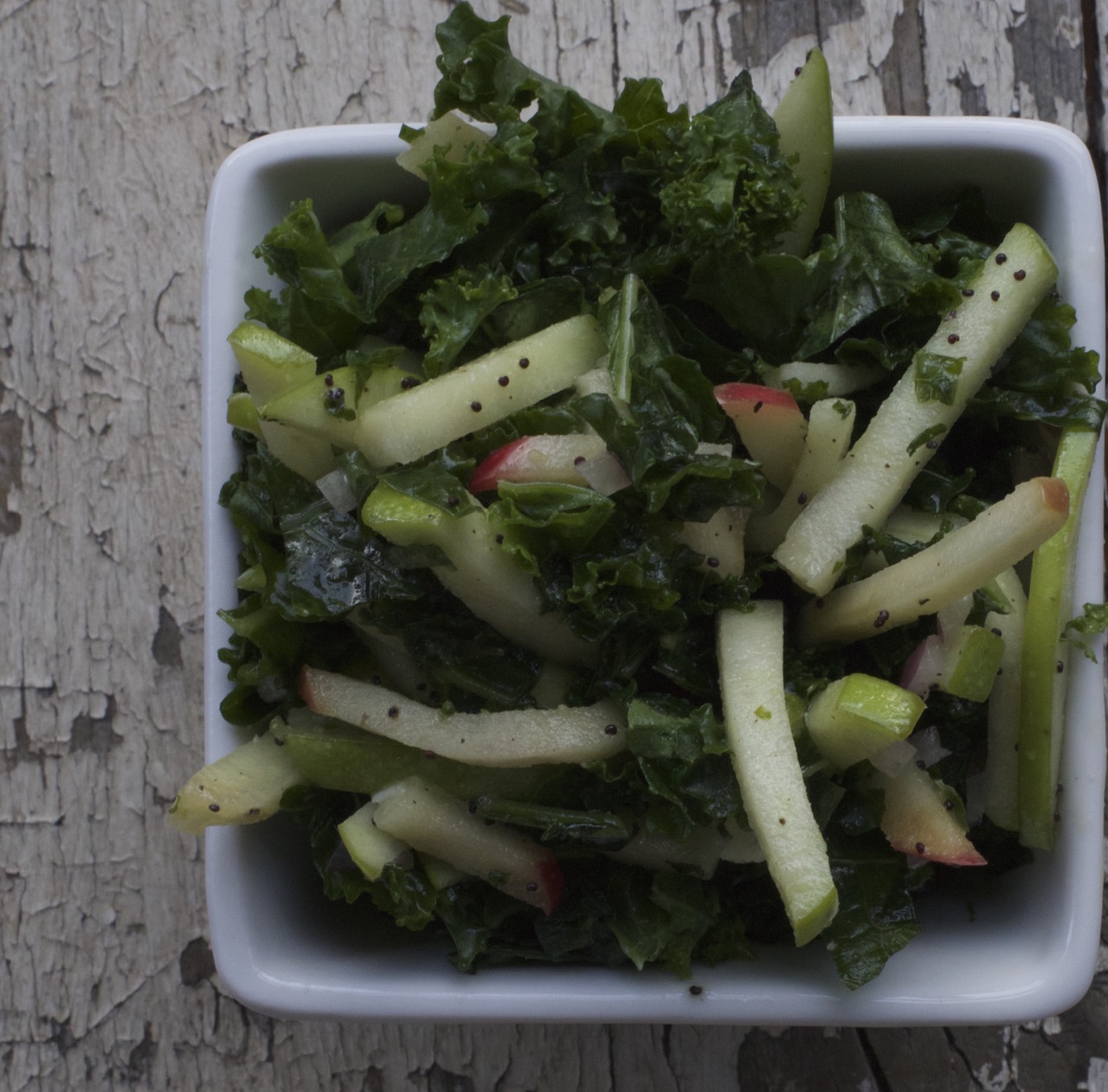 The mixture of tart and sweet apples provides a nice crunch to this salad/slaw.
I served it up alongside Porchetta sandwiches at a recent party and got rave reviews.
You can make this salad well in advance of serving it.  Kale holds up to the acid in the dressing very well - indeed it helps 'cook' the kale a bit.
If you make the slaw more than a few hours before serving, I would hold off on cutting and adding the apples until just before serving.  You can see in the picture below that some of the apples have gone a bit limp.
Another tip that i'm reminded of only when preparing kale for salads is that buying a bag or carton of baby kale significantly reduces the prep time.  I enjoy my time in the kitchen but stripping and cutting kale can be time consuming.
Adapted from Chow
Ingredients
Dressing
3 tbs rice wine vinegar
2 tbs honey
2 tbs dijon mustard
1 1/2 tsp poppy seeds
1/4 tsp salt
pepper
3 tbs grapeseed oil
1/4 cup red onion, fine dice
Slaw
1 lb kale (2 bunches) or 1 pack baby kale (easier)
1 granny smith apples - matchsticks
1 Pink Lady apple - matchsticks
Directions
Mix the ingredients for the dressing in a large bowl
Wash and remove kale leaves from stems
Chop Kale and add to dressing
This should rest in the refrigerator for an hour or so at minimum. The kale can take a long marinade and gets better as it marinates.
If you're going to dress the kale and let it rest for more than a few hours before serving, reserve the apples and add to the salad mixture before serving
More delicious recipes
This one of the many fanastic recipes available on this blog