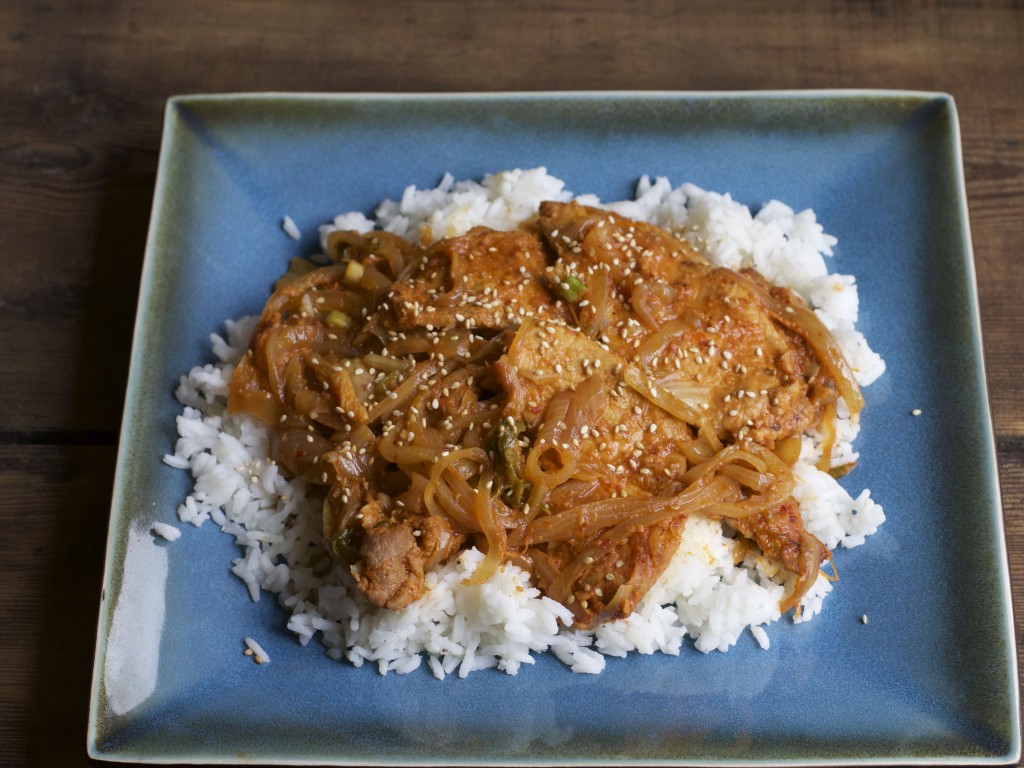 It would probably be wrong to profess a love affair with a meal but pork bokum has had the family and extended clan swooning.
Many describe this dish as Spicy Pork or Spicy Marinated Pork with Kimchi - it certainly has some heat when prepared as below but given the seemingly large quantity of both gochujang (korean red chili paste) and gochugaru (korean red pepper flake) the dish is evenly spiced - the heat being balanced by the addition of both apple and honey.
In full disclosure this dish may appear a bit daunting with foreign ingredients, thinly sliced pork loin, large quantities of both kimchi and red chili spices but I contend that with two strategic purchases (gochujang and gochurgaru - both of which should have a prominent place in the kitchen) that this dish can be prepped in advance - and cooked at the last - all in less time that it takes to make grilled hamburgers.
I've made this a few times in the last three weeks both to work the kinks out of the recipe and secondly because I literally could eat it every day.  The addition of some cucumber scallion pickles makes it even less of a burden.
Here's my collection of tips to efficiently make this dish:
Prior to making the dish acquire both Gochujang and Gochurgaru - there really are no reasonable substitutes
Put the pork loin/tenderloin in the freezer for 30 or 40 minutes prior to thinly slicing.  With a reasonably sharp knife you will make quick work of thinly slicing the pork.
Prepare the marinade in a food processor (or very capable blender) - my attempts to cheat with the mini food processor always end in frustration as we are looking for a homogenized marinade here
Finally, if you are comparing and contrasting this recipe for bokum with others found about you'll note a few differences that I think are super effective but may not be considered 'traditional' or 'authentic'.
I use honey in place of sugar.  Feel free to go in the other direction but honey is paleo friendly, palm sugar would be another alternative
Bokum (as with Bulgogi) typically calls for asian pear in the marinade.  Asian pear is not particularly easy to find.  We are after the protein relaxing characteristics of Asian Pear - I've found that apple coupled with honey does an effective job.  Alternatives include pineapple, mango, kiwi and fig.  You'd need to play with the marinade time if you choose pineapple or others - the protease enzymes in some fruits are much more aggressive than the apple honey combo
I add more onions than would be traditional - adjust as you like but the lightly carmelized onions with the sauce is a true delight
Ingredients
Marinade
1/3 cup gochujang (see Supply List)
1 apple, chopped
6 cloves garlic, minced
1 tbs ginger, peeled and minced
1 tbs soy sauce (or coconut aminos for Paleo friendly alt)
1 tbs sesame oil
1 tbs honey
1 tbs mirin
2 tsp gochugaru (see Supply List) Main Dish
2 lbs pork loin (or tenderloin), frozen for 30 minutes, sliced thinnly
oil for stir frying
2 large yellow onions, cut into crescents
1 cup kimchi, drained and chopped
Sesame seeds
Directions
freeze pork loin for 30-40 minutes
add all ingredients for marinade to food processor and puree
slice pork thinly and dress each slice in marinade ensuring all pieces are covered with marinade
marinate for 30 minutes (minimum) up to a few hours (read note above about fruit in marinade)
with wok or large frying pan over high heat add a bit of oil and add onions to pan
cook for 3-5 minutes until soft and beginning to brown
add kimchi and cook for 3-5 more minutes
remove to large bowl
add some more oil and begin cooking the pork
I do this in batches such that each piece of pork is getting it's own place in the pan
flip each piece once - encourage a bit of carmelization on the pork
Remove cooked pork to bowl
Repeat with pork until complete. On the last round, add the remaining marinade into the pan and cook thouroughly with the pork.
Add contents of the bowl back to the pan and toss/stir until well integrated
remove from heat and sprinkle with sesame seeds
serve with rice
More delicious recipes
This one of the many fanastic recipes available on this blog