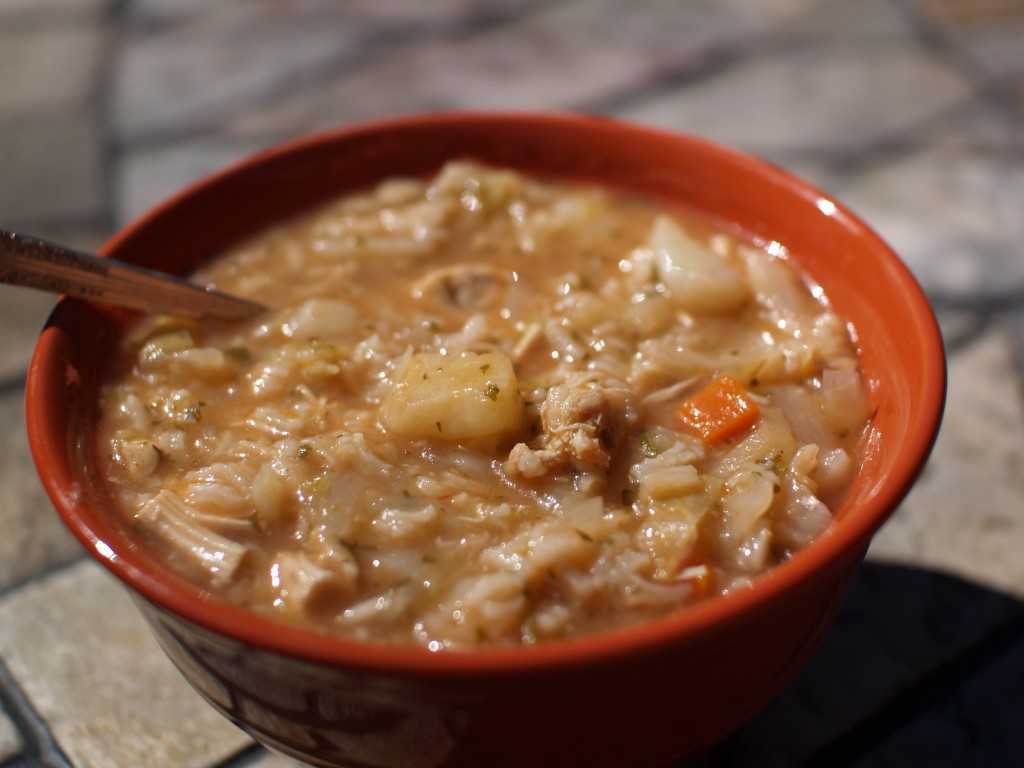 I mentioned last week that I pulled off the soup twofer - the Thai Curry Sweet Potato Soup served as the modern Tomato soup to our grilled panini and Caldo de Pollo headlined the dinner hour.
Caldo.  Broth or Stew
Pollo.  Chicken
Ok so now we're current on my command of Spanish.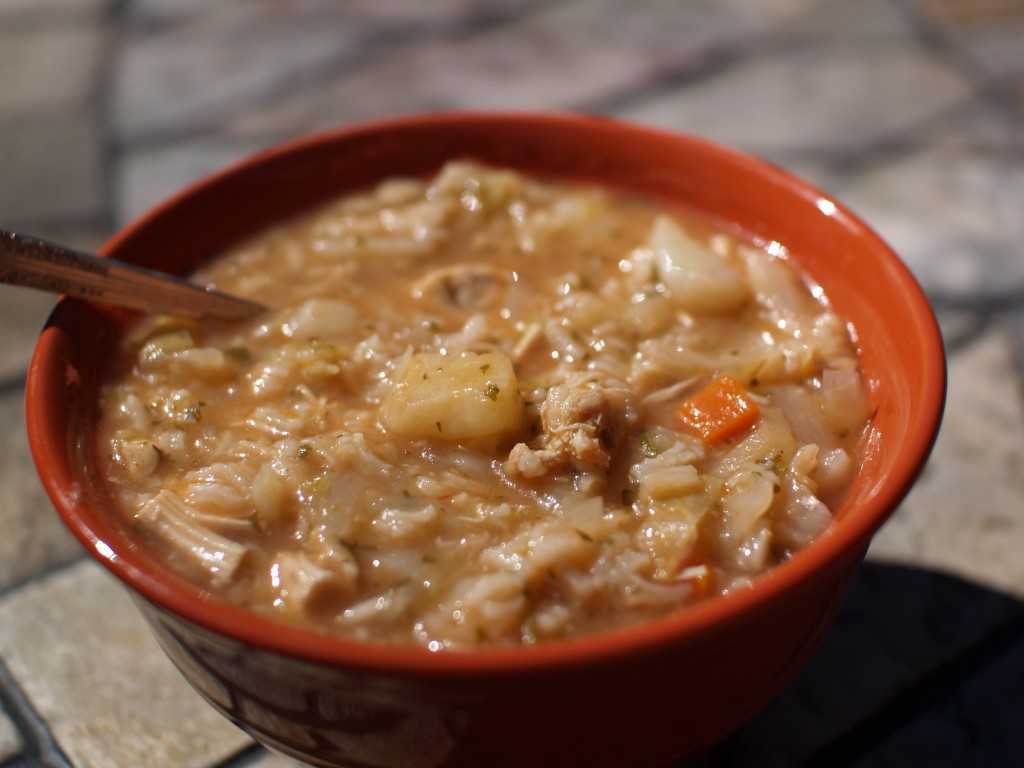 Chicken soup - what's the deal?  Aren't they all the same? Let me answer that with two words - Cilantro Bomb!  That's how I describe the finishing moves on this soup (If you are amongst the cilantro aversionists feel free to move along).  The cilantro bomb brings together cilantro, lime juice and jalapeño - the latin trifecta.  The 'bomb' describes what happens when you drop this pureed mixture into an otherwise earthy, homey soup.  The lime and cilantro bloom in the hot soup and takes this dish straight to 11.
I first came across this soup in The Soup Peddler's Slow and Difficult Soups: Recipes and Reveries (which is a catchy name and a wonderfully quirky book and includes an awesome recipe for Ash-e-joh - an Iranian/Persian barley soup)
I've made this soup more than any other single soup recipe in my adult life - while I followed the Soup Peddler's recipe faithfully to start, I'm now playing fast and loose based on what veg is in the larder and how much time I have (whole raw chicken to start or store bought roasted bird to strip).  For me the magic is the earthiness of cumin, the creaminess of well cooked potato and then Pow! - the cilantro bomb.
If you make this with leftover or store bought roasted chicken skip the initial 30-45 minutes and bring the stock to a slow boil then continue with the recipe.
Salt to taste before adding the tomato paste and rice - if you're using a store bought stock the salt content varies widely - potatoes have a way of soaking up the salt so be sure to taste a potato while sampling.
Final note - this soup is even better the following day - I like to reserve a bit of the cilantro bomb to add after reheating.
Ingredients
1 whole chicken (or equivalent in parts)
10-12 cups chicken stock
2-3 large carrots - sliced into half moons or rings
2-3 stalks celery - sliced
2 potatoes - large dice
1/2 head green cabbage - roughly chopped
1 can tomato paste (6 oz)
1 tbs ground cumin
1/2 cup white rice
Salt (to taste)
Cilantro Bomb
1 bunch cilantro (stems and all)
1 jalapeno
2 limes (juiced)
Directions
(If starting with raw chicken)
Add chicken to large stock pot and cover with stock
Bring to a short boil and turn down heat to simmer for 30-45 mins
Pull and drain chicken when chicken is done - legs should move easily
Add carrots, celery and potatoes and cook for 15-20 minutes
Shred the (hopefully) now cooled chicken and set aside
Add cabbage, tomato paste, cumin and rice and cook over medium low heat for another 15 mins
Add the chicken back into the pot
Test rice for doneness
Cilantro Bomb
Add all of the ingredients to a food processor and puree
Just before serving, mix the Cilantro mixture into the soup
More delicious recipes
This one of the many fanastic recipes available on this blog