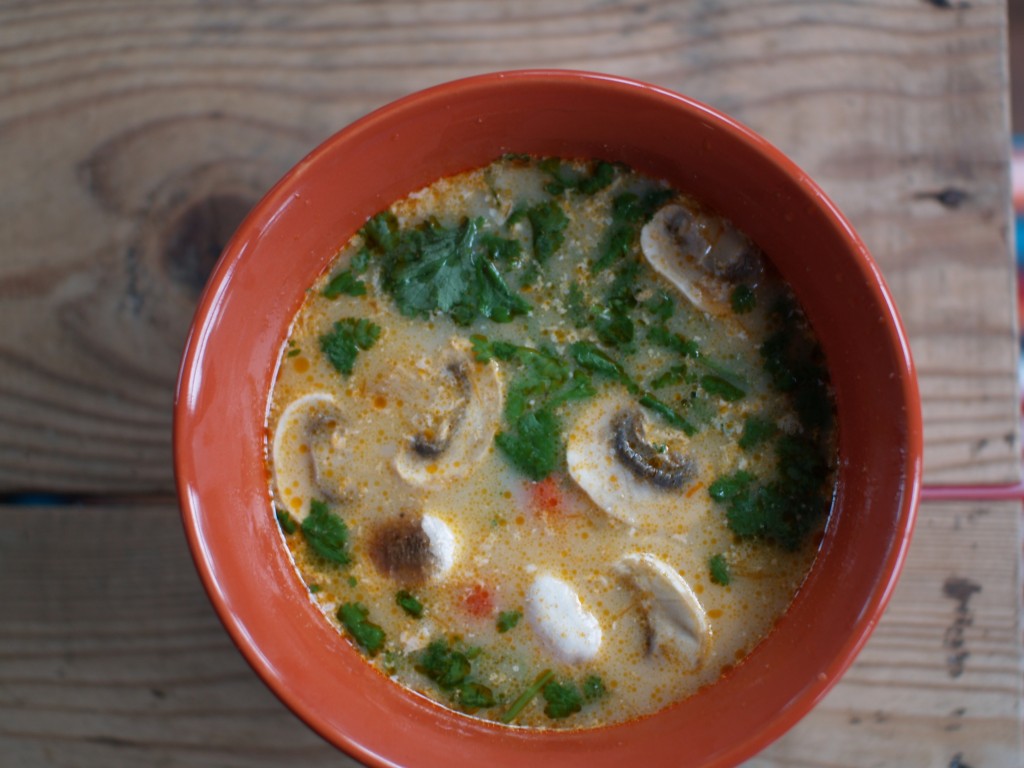 A few updates and then onto this awesome soup.
It's been a crazy month with three work related trips, an epic visit to Uchiko and not a lot of time to cook let alone blog.  The last two recipes bemoaned my lack of a deep fryer at home.  At some level it was a schtick - a source of regular ribbing within the family.  As I arrived back in Asheville I received a series of urgent texts from my Uchiko companions to check my front porch.  A large box awaited me and lo and behold - a deep fryer.  It was an act of extreme generosity - one that I appreciate deeply - although my thighs protest.  Thank you L&R!
My mind raced with a spectrum of unrequited recipes - given the hour of the night I settled on sweet potato fries to accompany the meatloaf in progress.  Outstanding.  That evening I recalled fondly my time as a pancake house line cook when I was in college.  I worked the 3rd shift during the week and covered the pancake griddle on Sunday mornings.  The 3rd shift slack hours provided ample time to experiment.  The internet was not quite a thing then but had it been I could have started the website 'Will it fry?'
The post halloween morning found us making funnel cakes and deciding that funnel cakes may have been the only remaining reason to go to the state fair - better tasting and none of the humanity.
During the last month I also received an email from a food marketing company asking me to checkout their newly introduced Gochujang.  I said yes, with no commitment to write it up.  A few days later this cute 7.5 oz bottle of Gochujang showed up with a nice note.  There are a few things I like about this.  First, it suggests to me to me that Gochujang is going mainstream.  It's a fantastic red chili paste that adds flavor with a bit of heat and can be interchanged with other chili pastes or sauces to (literally) add spice to life.  The mainstreamness of Gochujang was reaffirmed when my local paper included a review of Cooking with Gochujang: Asia's Original Hot Sauce.  The ChungJungOne sauce is a bit unique in that it's more of a sauce than a paste - hence the bottle.  This should do better in the retail grocery space and provide some shelf competition to Sriracha.
I set out to create comestibl.es as an outlet for my food passions, not as a money making proposition but so far in addition to improving my food photography skills it's both renewed my creativity in cooking and netted some cool loot.
I've always been a big fan of Thai soups.  Tom Kha Gai - Thai Coconut soup with chicken - was in regular rotation for years.  Tom Yum which shares common elements provides the twist of sour.  You might be saying "sour soup, no thanks".  But think about Chinese Hot and Sour soup.  The splash of vinegar puckers you up and opens your senses to the underlying heat.  Tom Yum does the same with the introduction of freshly squeezed lime juice and kaffir lime leaves providing the sour, acidic bite.
There are a ton of variations on Tom Yum - chicken, shrimp, tofu - all are credible options.  Some folks make it with coconut milk, others without.  Tomato slices or not is another common variation.
The best part of Tom Yum is that it is literally a 20 minute production.  Seriously if you have the ingredients lined up - in twenty minutes you'll be enjoying this soup.  A quick aside - ordering Tom Yum in a Thai restaurant is a mixed bag - some places make it fresh and others I'm convinced use Tom Yum paste and mix it in the back and drop some cooked chicken or shrimp in.  I've tried the Tom Yum paste and given the low complexity of this dish and the short cooking duration I can't recommend or justify cutting corners.  There is no substitute for fresh lime juice.
Finally, you will note that the lemongrass and galangal (or ginger) below are left very large - they are intended NOT to be eaten.  I have served this dish to guests and neglected to completely remove the lemongrass or galangal prior to serving and having failed to issue warnings or instructions witnessed the challenge of chewing a woody lemongrass stalk or a think hunk of galangal.  I have not tried it but creating a 'bouquet garni' with the lemongrass and/or galangal would be super effective.
Ingredients
1 tsp vegetable oil
1 stalk lemongrass (outer layers removed, bruised with back of knife and cut into 2" pieces)
1 shallot diced
3-4 gloves garlic, smashed and finely chopped
2 tbs Thai Red Curry paste [<a href="/supplies/thai-red-curry-paste" data-mce-href="/supplies/thai-red-curry-paste">See supply list</a>]
1 tbs palm sugar (substitute light brown sugar)
1 inch chunk of galangal (or ginger) sliced into large slices (5-6)
4 kaffir lime leaves
6 cups chicken stock
1 lb boneless chicken breast
1 can Coconut Milk (unsweetened)
5-6 white mushrooms (sliced into thick slices)
2 limes (juiced)
2 tbs Thai Fish Sauce
1/3 cup Cilantro (chopped)
Directions
heat oil in dutch oven or soup pot
add shallot, garlic, curry paste and lemon grass to pot
stir over medium heat until shallot softens
add palm sugar, galangal, lime leaves and chicken stock
cook for 10-12 minutes, stirring occasionally
cut chicken into 3/4 in pieces
add chicken, mushrooms and coconut milk to pot
meanwhile, chop cilantro and juice lime to bowl
after 6-8 minutes, turn off heat and add lime juice & fish sauce
stir and serve
More delicious recipes
This one of the many fanastic recipes available on this blog