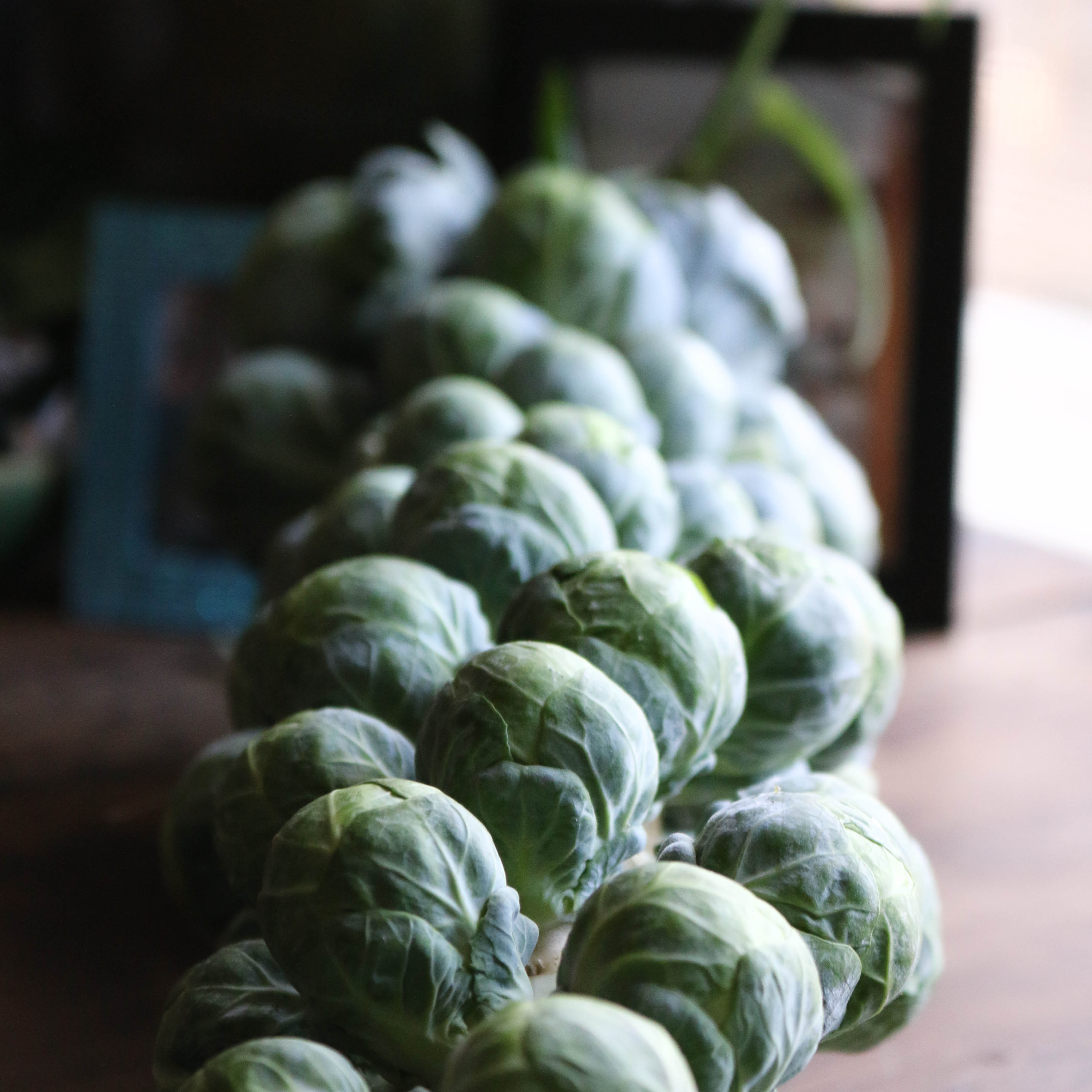 I had the pleasure to eat at Uchiko a few weeks ago while in Austin, TX. Every bite was a true delight and I, along with my companions oohed and ahhed every time a new dish came out. We plowed through eight or so dishes each of which I was internally rating on the 'recreatibility' scale when back on the home front.
We shared a serving of the Uchiko Brussel sprouts - flash fried and tossed with a lemony, fish saucy, caramelly goodness. The citrus came through and the sticky sauce coated each crevice of the sprout - the crunchy leaves that had come free in the prep were in particular divine.
Flying back from Austin I noodled on this dish and googled on this dish and arrived at the following.
But first an aside about the home deep fryer.
It's worth establishing that my family lives comfortably. I'm old enough to have become wise enough to outlast (many of) my indulgences. There really isn't a lot that I could legitimately say 'I need'. A fry daddy though - that's pretty much a basic human right. My (health conscious) family regularly rebuffs my desire to own one thinking only of bacon wrapped, cheese filled deep fried hotdogs (which are for the record quite lovely) but I'm much more refined than that and when Amazon can put me on a fryer like this Presto 05442 CoolDaddy Cool-touch Deep Fryer - Black for $35 or this Breville BDF500XL Smart Fryer that can be cleaned in the dishwasher who am I to resist.
It's for the food blog

If the temperature is correct, frying can be healthy Doesn't work - they aren't buying it.
I'm betting that the promise of Uchiko style Brussel sprouts may be the ticket. I'll keep you posted.
Finally before we get into it here, yes I could fry on the stovetop and indeed may reach closer to the Uchiko results by doing so - but how would that advance the argument for needing a FryDaddy?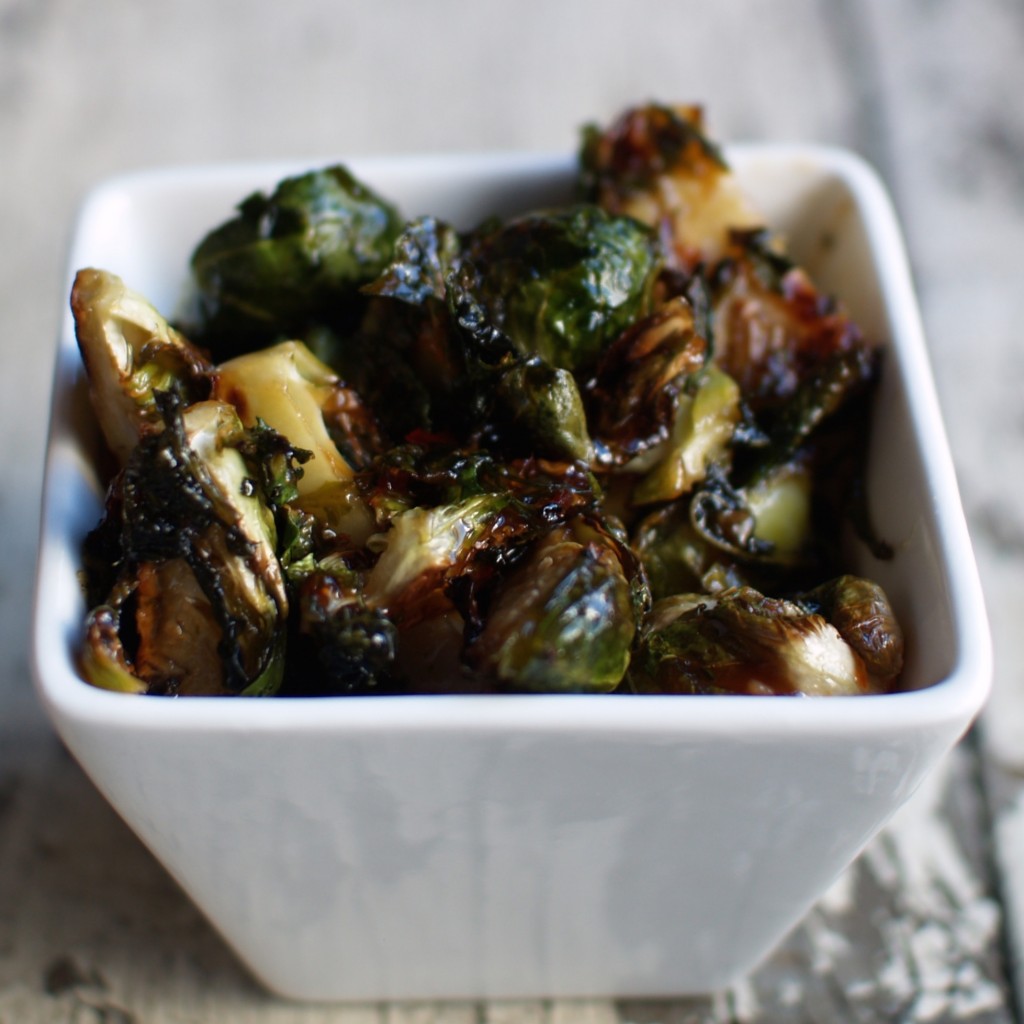 For you, my dear reader, I have made four pounds of Brussel Sprouts in as many days searching for an accessible approach to recreating this dish. It may not yet be established here on comestibl.es but I'm a huge fan of roasted vegetables. I wanted to avoid frying the sprouts notwithstanding the awesomeness of the crisp single leaves etched in my memory from Uchiko. Oven fried greenbeans get a regular rotation here and the crunch and crisp that emerges is similar.
So roast the sprouts.
I wanted some additional carmelization so toss the Brussel sprouts with a tablespoon of brown sugar.
Check.
The pop of lemony flavor… lemon zest tossed with the brown sugar and a tablespoon or two of grapeseed oil.
I ran the first three batches through using this combo and even without tossing in sauce they were credible and tasty. The first three attempts all used a simple (to make) sauce incorporating the trusty Thai Chili Sauce along with Thai fish sauce and some soy sauce. On the third attempt I juiced the lemon that had shed its zest and mixed that in.
Again all three attempts gained on the previous and were good in their own right.
But.
The carmelization of the roasted sprouts and crispiness of the leaves was good but the Uchiko sprouts sauce had a caramelization to it that hugged the nooks and crannies of the sprout revealing micro bursts of flavor as you crunched through it.
Take four. I found this article in the Statesman.com which has an adapted recipe from Uchiko itself.
I've adapted the carmelized fish sauce found there (it's so good and comes out semi-gelantious - like Thai Fish Sauce Jelly – I'll get the marketing department to work on the naming) So sprouts tossed with brown sugar, lemon zest and oil, topped with the carmelized fish sauce and some trusty Thai Chili sauce, finished with a splash of lemon juice - wow!
I'm pretty sure that whatever good things Brussel sprouts do for the body I now have that in spades. And an awesome recipe to add to the repertoire.
Enjoy.
Ingredients
Carmelized Thai Fish Sauce (adapted from Statesman.com)
1 tsp veg oil
1 stalk lemon grass (chopped inner white parts only)
4-5 cloves garlic (minced)
1 shallot (chopped)
1 inch piece of ginger (diced)
1 tsp Sambal Oelek or substitute See supply list
1/2 cup cilantro (stems and all - chopped)
1/4 cup mint (chopped)
1/4 cup basil (holy basil if you can get it - chopped)
1/2 cup water
1/2 cup fish sauce
1/2 cup sugar
Brussel Sprouts
1 lb Brussel sprouts (ends removed and halved or quartered)
1 tbs brown sugar
zest of 1 lemon
4 tbs Thai Chili Sauce (See supply list)
Juice of 1/2 lemon
Directions
Add veg oil to medium saucepan over medium high heat
Add lemon grass, garlic, ginger and hot sauce
Stir over heat until shallot and garlic soften - the whole lot will become fragrant.
Continue cooking for a few minutes
Add sugar, water and fish sauce to pan and scrape up any sticky bits on the bottom of the pan
Add herbs and cook over medium heat, stirring occasionally.
Cook for 10-15 minutes but keep an eye on it.
As the liquid evaporates it will reach a point where it becomes thicker and will quickly become carmelized
Remove from heat and cool down enough to blend it - be careful with hot liquids and a traditional blender - you and your kitchen do not want to go to the hospital with Thai Fish Sauce Napalm burns
Brussel Sprouts
Pre heat oven to 450 degrees
Toss cut brussel sprouts in a bowl with brown sugar, lemon zest and oil to coat
Arrange on a foil lined cookie sheet permitting as much space between sprouts as possible - no crowding
Cook for 12-15 minutes - you'll hear a lot of sizzling
Remove from oven and turn over sprouts and return to oven for another 10 minutes
You're looking for crispy leaves - lots of brown
Remove from oven and place in large bowl
Add 4 or 5 tablespoons of the finished Carmelized Thai Fish Sauce and 3 tablespoons prepared Thai Sweet Chili Sauce and lemon juice.
Toss well to coat each sprout and serve
More delicious recipes
This one of the many fanastic recipes available on this blog