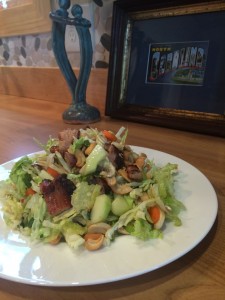 There are lots of recipes on the web for a Thai Chicken Salad. Many go in the direction of a thai inspired peanut dressing while I'm looking for more classic Thai dressing flavors. There are many notable traditional Thai dishes that one would consider salad - Nam Sod, Som Tam (Green Papaya Salad), Thai Beef Salad.  I routinely make Thai inspired salads, particularly in warmer weather - bringing the fresh flavors of cilantro and lime juice, the bite of hot chilies and a hint of sweet with brown or palm sugar together yield up a classic Thai flavor profile.
So when it comes to Thai Chicken Salad I want to evoke those flavor associations and layer that with several textures.
The salad part of the recipe is all about crunch - we use shredded or finely sliced cabbage here - it holds up to the acid in the dressing and remains crunchy even while the salt breaks it down. Shredded or finely diced carrots do the same. Green onions thinly sliced or shaved red onion provide a bit of zing while cashews or peanuts provide additional crunch.
When it comes to the chicken part of the salad, you'd be just fine to layer in some boiled chicken breast or leftover baked chicken. What sets this salad apart though is a Gai Yang inspired chicken. Gai Yang is without question my favorite chicken preparation (more on which some time soon). My preparation of Gai Yang here - using boneless chicken thighs - is simple and full of flavor that will add another layer of flavor to the finished salad.
One challenging aspect of writing recipes down is that they are in some way limiting - limiting in the often endless variations that are possible from a base recipe. So although I don't hit it below, don't be afraid to experiment with ingredients in the salad. If you have some romaine in the fridge, pile it on, steamed asparagus from last night - chop it up and add it in.
The key here is that the dressing combined with the caramelized, charred chicken carry the dish regardless of the exact mix of greens and veg.
(I will write up my full on Gai Yang recipe in the future - what we're using here is the expeditious but still flavorful variant of that recipe)
Ingredients
Marinade
10-12 pieces of minced coriander
4 garlic cloves chopped
1 stalk lemongrass, bruised with back of knife and cut into 1 inch
pieces
1 tablespoon brown sugar
3 tablespoons soy sauce
1 tablespoon fish sauce
1 tablespoon chili flakes
1 tablespoon ground black pepper
4 tablespoons water Salad Dressing
1/4 cup fish sauce
1/4 cup lime juice
1 tablespoon soy sauce
3 tablespoons minced garlic
3 tablespoons chopped cilantro (roots and all)
1 tablespoon sesame oil
1 tablespoon chili flakes or sambal oelek Salad
1/2 head savoy or green cabbage - shredded or chopped finely
3-4 carrots shredded or sliced finely
1 cucumber, seeded and sliced into 1/4 inch quarter moons
4 white mushrooms, cut in half and then sliced
a small bunch of cilantro, chopped finely
1 1/2 pounds boneless, skinless chicken thighs directions_markdown: |-

Mix ingredients for marinade together in a bowl, cover chicken with marinade and tuck into the refrigerator for at least an hour and up to four hours
For the Dressing
Mix the ingredients for the dressing together and reserve
Prepare the salad and set aside
For the Chicken
Prepare the grill for a medium high heat
Grill the chicken thighs until cooked through - turning over at least once. This usually takes 10-15 minutes. The chicken can be prepared in advance
Directions
More delicious recipes
This one of the many fanastic recipes available on this blog