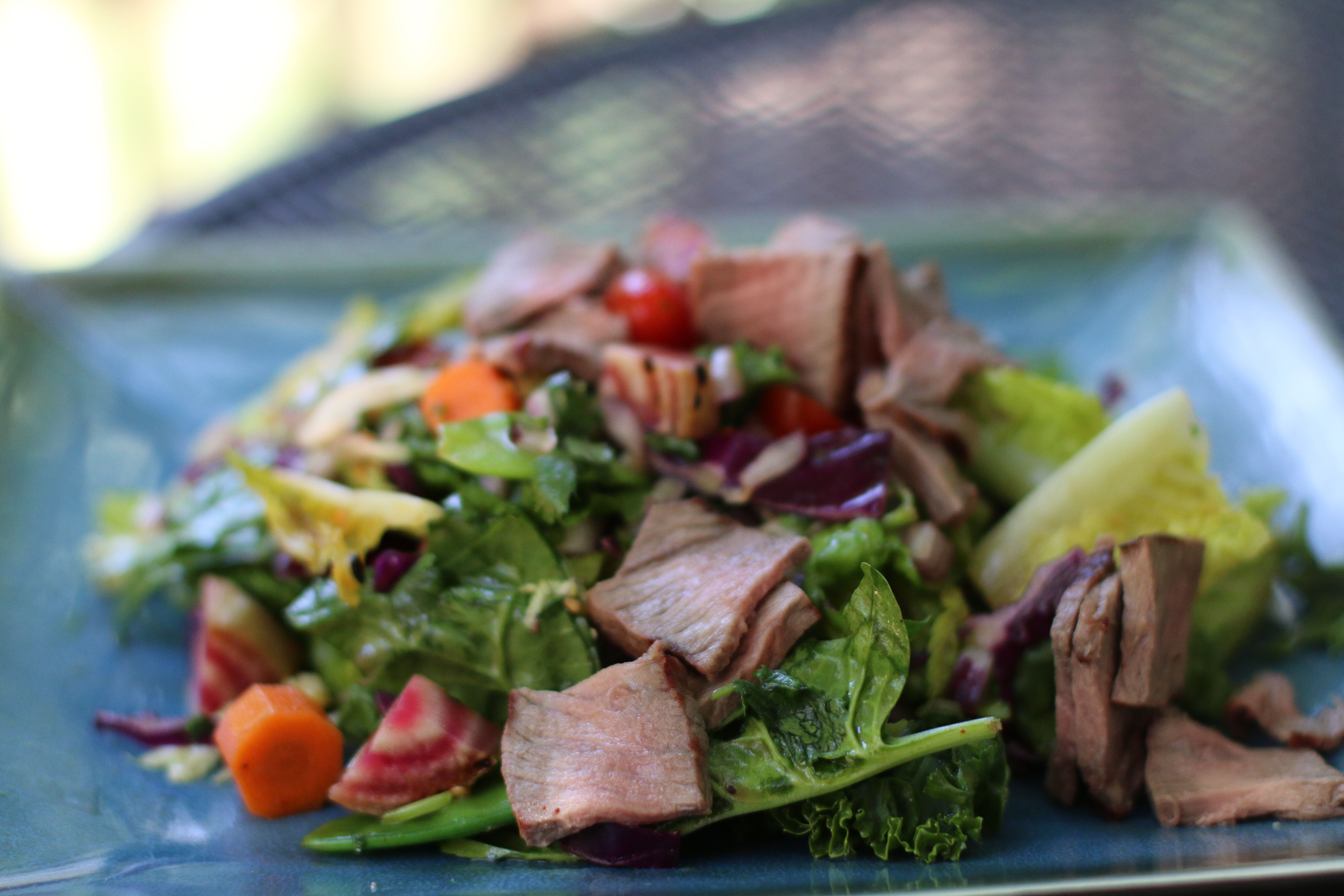 Summer is in full swing and that means an abundance of ad-hoc salads for our meals.  I'm a sucker for a big bowl of mixed veg and some grilled protein topped with the hot, sour, sweet drizzle of a Thai dressing.  This salad gets better with time, by the time you get to the bottom of your plate your mouth is alive and seeking more.
Currently Reading:
I'm currently reading Lesser Beasts: A Snout-to-Tail History of the Humble Pig(http://www.malaprops.com/book/9780465052745) (they ship as well - we love local independent booksellers).
Thai Beef Salad
As with the Gai-Yang Thai Chicken salad, this is a dish that I make a lot of - 3 times last week as we entertained and worked through a lovely CSA basket from Matt and Casara out at Second Spring Farm. (Thanks Todd and Rita for sharing) I mean what a basket! The greens were gorgeous, kale, fennel and spinach abounded but the beets - beautiful rainbow beets that just yell summertime!
Back to the salad. As with many of the dishes that I cook I'm looking to evoke the overall taste and texture profile of a dish from my memory. That simply means that if you eat Thai Beef Salad with me more than once it will be different every time. Outside of my lovely bride (when denied the food of her people would just as soon subside on cereal as gourmet vittles) who stomached three variants of this salad last week I wouldn't subject folks to the same dish or variants thereof as frequently.
Key elements of this salad include:
Thinly sliced grilled beef - nicely salted with a char on the outside
Salad - shredded cabbage, julienned kale, spinach chopped and traditional lettuce all work
Veg assortment - shallots or red onion and cucumber are staples, roasted or fresh beets, grilled corn, carrots, mung bean sprouts and diced zucchini - in short, what you have, what is fresh and what you love can all take a place in this dish
Dressing - I use a few variants of this dressing but the classic Thai flavors of lime and fish sauce, a touch of sugar and usually a shaved Serrano pepper or Thai bird chile with some minced kaffir lime leaf and cilantro provide the hot, sour, sweet combination that says 'Yes Thai!'
Nuts - a topping of lightly crushed peanuts, almonds or cashews elevate the dish again with another textural element that surprises and delights
Be creative and celebrate the abundance of summer.  You'll keep coming back.
Ingredients
Dressing
2 cloves garlic, pressed, minced or shaved
5 tbs fresh lime juice
5 tbs fish sauce (I prefer {% amazon text B00B617XK2&amp %} but Tiparos works as well)
1 tbs sugar
1 serrano or thai chilie, super thinly shaved
2 tbps mint, fresh and chopped
2 tbs cilantro, fresh and chopped
Salad
2 lb London Broil
1-2 cups shredded red cabbage
1 cup romaine salad, torn
1 cucumber, seeded and sliced into half moons
1/2 cup red onion, finely diced
1 cup mung bean sprouts
1/2 cup carrots, shredded or finely chopped
Variants
1 cup rainbow beets, grilled and diced
1 cup zucchini, diced
1 cup tomatos, bite size chunks
Directions
Prepare grill
Generously salt both sides of beef
If grilling beets, lightly oil and salt slices
Cook beef on grill until medium rare - one flip only will help with char
Set beef aside to rest (10 mins)
Add vegetables to large bowl and top with dressing, mix well
Thinly slice beef and cut into bite sized pieces
Toss beef into dressed salad
Top with crushed peanuts or cashews
Serve
More delicious recipes
This one of the many fanastic recipes available on this blog