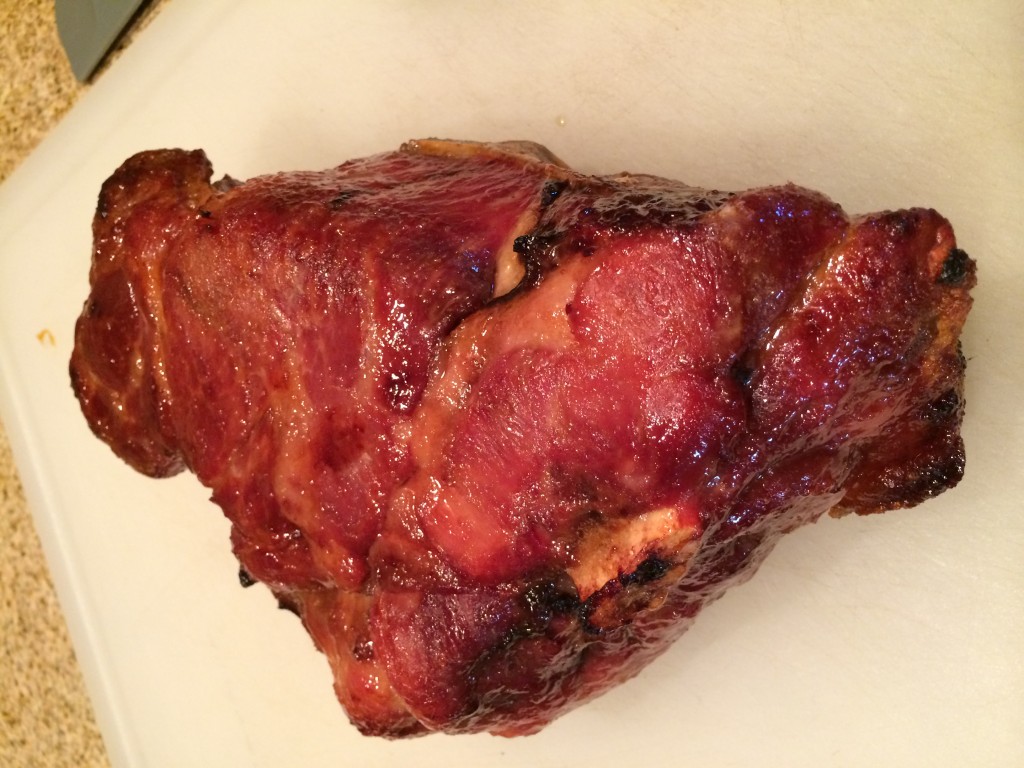 I am a huge fan of barbeque and (although not originally) being from the south that means pork barbeque. In fact in the PreKids era, I was a member of a rag tag competitive BBQ cooking team. I even have a trophy from our one and only first place for whole hog (Jamacian Jerk rubbed whole hog - more on that another time).
While I appreciate slow cooked pork on the smoker, my taste for pork and asian food came together when I read David Chang's Pork Bo Ssam recipe in Momofuku.
My family appreciates slow cooked pork and I routinely subject them to my asian cooking experiments so I knew they would love this as well.
The magic in this recipe is the finish. After baking for 5-6 hours, I top the pork with a brown sugar and salt rub and bring the oven up to 500 degrees. Stay close and witness the carmelization as the sugar and pork fat cook together. My friend Adam calls this the 'baconification' process. Indeed, the crust on the pork is now a salty bark with a touch of sweetness. When this bark is mixed in with the tender interior of the butt, it adds depth and complexity to the finished plate.
My measure of doneness for a pork butt or shoulder is 192 degrees. This is the inflection point where the fat has largely rendered and the remaining collagen dissolves - resulting in a spoon shredable hunk of still moist meat.
For the Momofuku experience, eat this with lettuce, a shared bowl of rice and the sauces. We have begun to forgo the lettuce treatment and layout the rice, topped with shredded pork, a healthy dose of the scallion sauce with the Ssam drizzled all over. I like to add a few forkfuls of kimchee for some extra crunch and kick.
Ingredients
Pork
1 pork butt (sold as Boston Butt or pork shoulder) (8 to 10 pounds)
1 cup white sugar
1 cup kosher salt
7 tablespoons brown sugar
Ginger Scallion Sauce
2 cups scallions - chopped thinly (about 12 scallions)
1/4 cup peeled, minced fresh ginger
1/4 cup grapeseed oil or other benign tasting oil
1 1/2 tsp soy sauce
1 tsb sherry vinegar
salt to taste
Ssam Sauce
2 tbs fermented bean-and- chili paste - this is a Korean paste
1 tbs chili paste Gochujang (korean red chili paste) See supply list
1/2 cup sherry vinegar
1/2 cup grapeseed oil or other neutral tasting salad oil
Directions
Mix the salt and white sugar together in a bowl and rub into the pork.
Cover the pork and refrigerate for 6-24 hours
Preheat oven to 300 degrees
Drain the accumulate liquid and place the pork in a roasting pan
Cook until internal temperature reaches 192 and remove pork from oven
Raise oven heat to 500 degrees
Mix together the brown sugar with 1 tablespoon salt and sprinkle over the surface of the pork.
Put the pork back in the oven for 10 minutes - the surface will bubble as the brown sugar and the remaining rub carmelize
Sauces
While the pork is cooking, prepare the sauces
For the scallion sauce, whisk the ingredients together and salt to taste
For the Ssam sauce, whisk the ingredients together in a separate bowl
Serve hot with the sauces. While many serve this with lettuce cups we eat it with white rice, pork heaped high and sauces drizzled atop
More delicious recipes
This one of the many fanastic recipes available on this blog