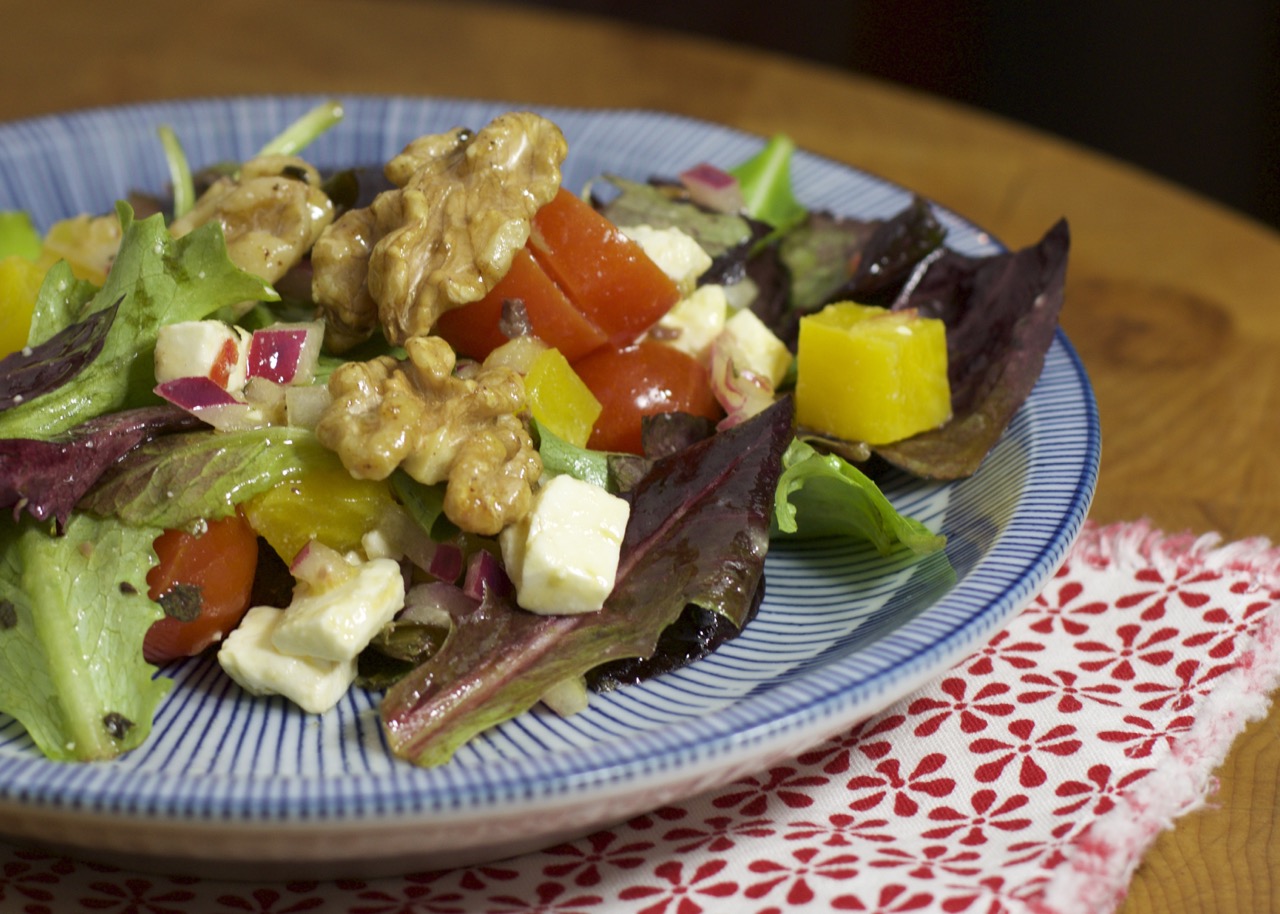 We don't often slow down enough or think deeply enough about why a particular dish works. Think about tuna salad - if you add sliced celery to the dish it provides a sharp contrast to the toothless tuna. Granola and fresh berries on yogurt does much the same. Contrasting textures enhance the way we perceive flavors. We know this experientially and evidently there are scientists working on quantifying and qualifying the same.
Applying this to the realm of salads we might add chopped vegetables (crunchy), a sprinkle of cheese (creamy), and a handful of nuts.
This salad brings those concepts together with roasted beets and my new favorite salad topping candied walnuts. The walnuts in particular are super easy to make and will elevate your salad from pedestrian to professional.
The candied nuts are paleo friendly, take just a few minutes to make and the variations are endless.
Ingredients
Candied Walnuts
8 oz raw walnuts
1 tbs honey
1/4 tsp cayenne pepper
1/4 tsp sea salt
Roasted Beets
2-3 whole beets (I used rainbow beets but any will do)
2 tbs olive oil
Salad
4 cups mixed greens
10 cherry tomatoes - sliced
1/2 red onion diced
2 oz feta cheese
Dressing
3 tbs olive oil
1 tbs white wine vinegar (you can sub balsamic, red wine vinegar)
1 tsp fresh lemon juice
1 tsp dried mint flakes
salt and pepper
Directions
preheat oven to 350
put parchment paper on a cookie sheet
add honey to small bowl and microwave for 15 seconds
add cayenne and salt
stir well
add nuts and stir until nuts are sticky
spread nuts into single layer on parchment paper
bake for 15-20 minutes
cool and remove from parchment (resist temptation to sample the hot walnuts)
Beets
scrub beets lightly under running water
add to ovenproof dish
rub olive oil on beets in pan, cover with foil
bake @ 350 for 45minutes to an hour (or until a knife easily penetrates beet)
remove and cool
the skin should come off easily once cooled
slice and dice into 1/2 inch cubes
Dressing
whisk together ingredients in small bowl
Salad
In a large bowl, toss mixed greens, tomatoes, onions and beets
add dressing and toss
top with cooled candied walnuts
More delicious recipes
This one of the many fanastic recipes available on this blog