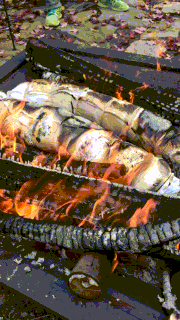 It is not uncommon to know a dish, to eat a dish, to enjoy a dish and not know it's name.  Or as in the case of many dishes to know a dish by one name that is overloaded - pigs in the blanket - sausage links in a pancake or beef filled cabbage rolls?  Barbecue - smoky, slow cooked beef? slow cooked pork or (as was the case in my suburban midwest upbringing) sloppy joes.
And so it is with Lomo al trapo - a Columbian (South American) diaper wrapped, salt encrusted beef tenderloin cooked in a fireplace.  For 25+ years I knew this only as 'the log' and only in the last year learned its real name.
We became acquainted with this dish through our good friend Claudia and her family when we lived in Columbia (South Carolina).  We were in our twenties and a dinner party was planned wherein Claudia's visiting parents would join us at our home.  The instructions to us were simple:
Buy a whole beef tenderloin
Buy a large cloth diaper
Buy 5 pounds of salt
have butcher's twine and a squirt bottle handy
Have fire going in fireplace
Claudia's dad, a surgeon, arrived and with cocktail in hand proceeded to deftly (and mesmerizingly) trim the filet, removing fat and silverskin.  The large cloth diaper was dampened and the salt poured atop the diaper in an even 3/8-1/2 inch layer.  The salt was spritzed with water until it caked.  With refilled drink, the filet was placed atop the salt and rolled jelly roll style and tied like a roast.
The entire assembly was then gently nestled into the wood burning fireplace taking it's place amongst the burning hardwood and conversation turned to other matters.  My emotions gripped me as Claudia's dad sat calmly by the roaring fire.  Will the diaper combust?  Will it be too salty?  Hey, that's $80 of meat we just threw in the fireplace!  What happens if this goes south?
After 10-12 minutes we calmly turned the log, revealing a blackened cast which had become hard to the touch (with fireplace tongs).
Another 10 minutes and the log was removed (with welder's gloves) to a cookie sheet and hustled to the back porch along with a chef's knife.  The now hardened cast was cracked with a swift blow from the chef's knife and the remaining cast peeled away to reveal a slightly charred filet and smelling incredible.
The filet rested for 10 minutes while the table was set.  The surgeon wielded the blade again, parceling the beef into serving size slices - the ends of the filet sat at a medium medium-rare while the center cuts were a perfect medium-rare.
I do not recall the balance of the meal but 'the log emerged ' as a must cook dish.  Hints of smoke and char melded with the succulent tenderness of the beef.  A total winning dish.
We went on to make this dish throughout our remaining twenties and into our mid thirties.  The log became performance art food - an old craftsman toolbox with twine, spray bottle, welders gloves (and goggles for dramatic effect), a hammer, two chains (again drama), cloth diapers and a box of salt became the traveling log toolkit.  We cooked it in supper clubs, at the beach with friends, one time over charcoal and at guests' houses.  We had minor challenges on occasion (a lesion in cast) but always emerged with a delicious dish that was unique, delicious and a bit intimidating to all involved.
I'm guessing that we made this 2-3 times a year for 10+ years.  And then it stopped.  I don't recall a conscious decision to stop making it.  Kids happened.  Stories of the log circulated in the intervening years accompanied by warm memories and a distant desire to recreate the magic.
Earlier this year the stars aligned and 'the log' became the featured menu item for our first charity dinner.  The smoky, charred beef paired (mentally during menu planning) with the chipotle hinted, smoked cheddar scalloped potatoes.  As I was on the road the week leading up to said dinner I had occasion to ask a Columbian (South America) by birth co-worker about the dish.  As I described the dish, a smile emerged along with the dishes name - Lomo al Trapo!  He proceeded to share stories of the dish from his youth with zeal.
And so it was that we were able to fill in the blank on the first charity dinner with the proper name for this dish.  It had been well over 15 years since I last cooked it.  I had to take a mulligan on the first attempt to roll it, the fire had died down while preparing other dishes so we let it cook longer but in the end it satisfied on all counts.
This past weekend we gathered friends and families for a reunion of sorts and we were committed to cooking the log.  With almost 20 folks coming we doubled down with two tenderloins, a tripled recipe of the chipotle scalloped potatoes and a mound of asparagus.
General Technique
Wet diaper (or tea towel) and spread out on counter.  Cover with even layer of salt.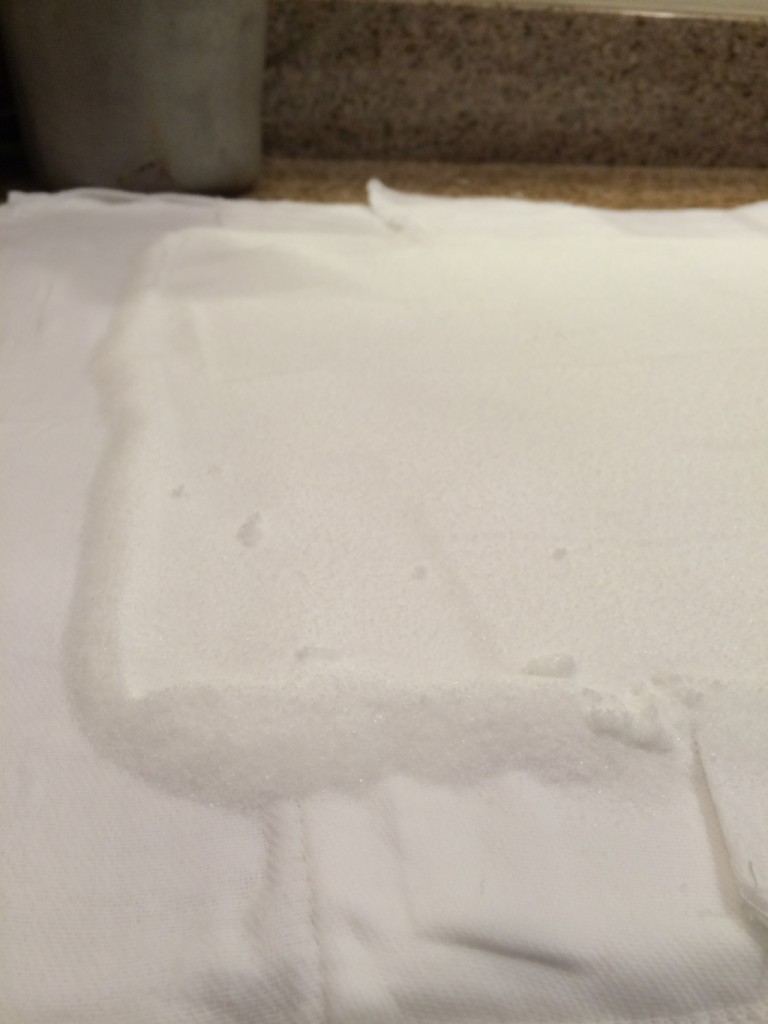 Spritz salt until thoroughly damp.  When you lift the corner of the towel, the salt will not run and will appear "cakey"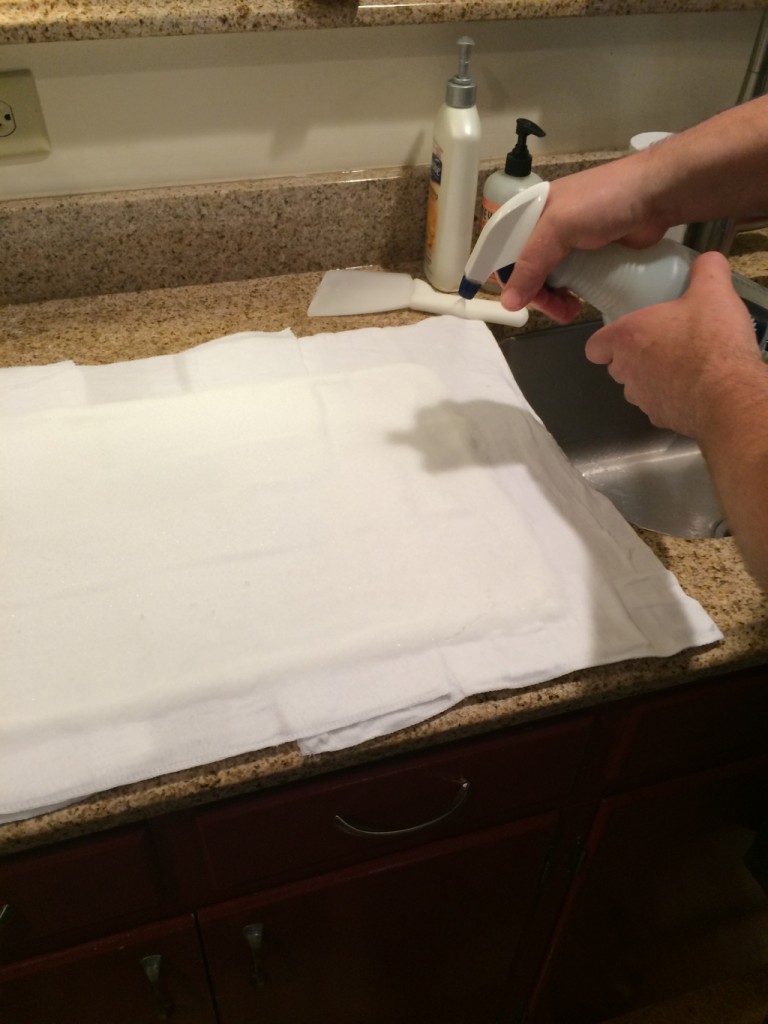 Place trimmed filet on salt.  Fold the thin end of the tenderloin back towards the center, trying to create a consistent density of beef before rolling.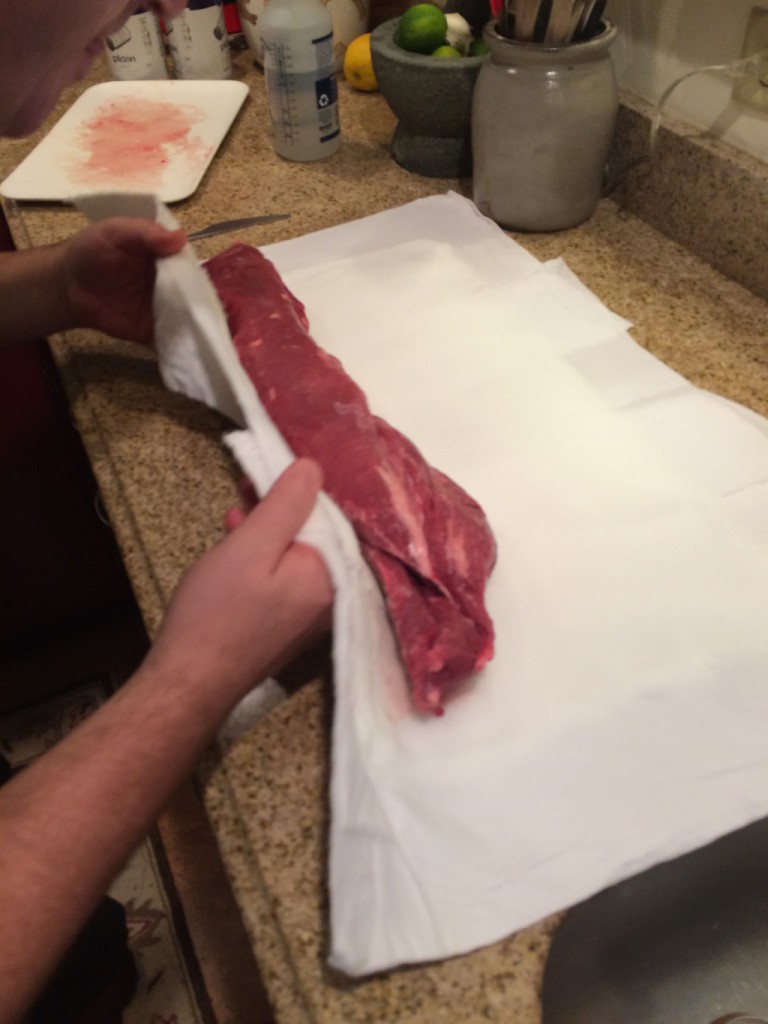 With beef and diaper roll like a jelly roll away from you.  Before you finish the roll I fold the ends of the diaper in to capture the end flaps.
Tie off every two inches or so.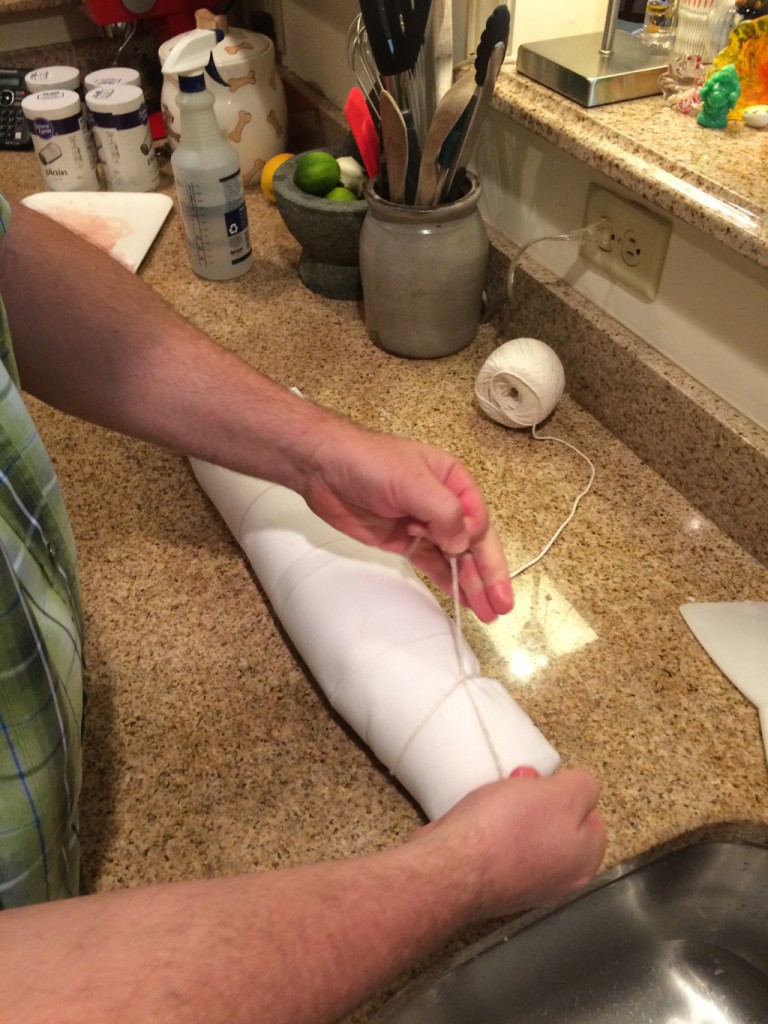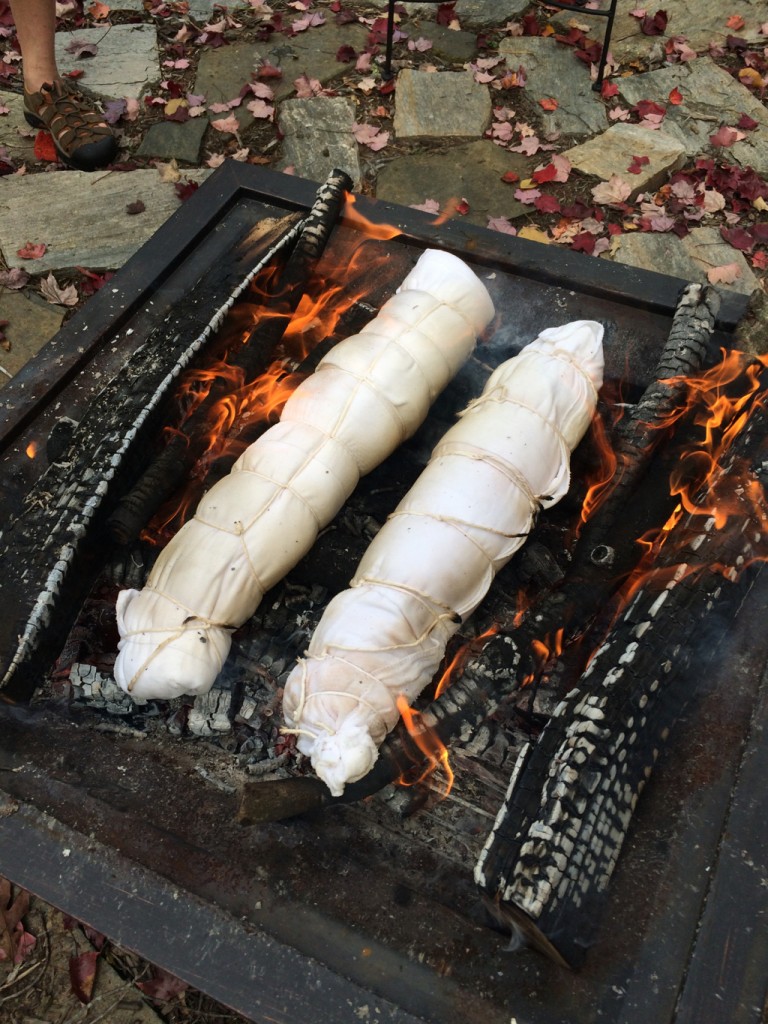 Place tenderloin logs on roaring fire.  Turn after 10-12 minutes.  Remove from heat after 18-22 minutes.
Although I don't use a thermometer as a regular course of action I believe you should be able to pierce the cast with an instant read.
For medium rare you're looking for 115-120 - remember that the beef will come up another 10-15 degrees while resting.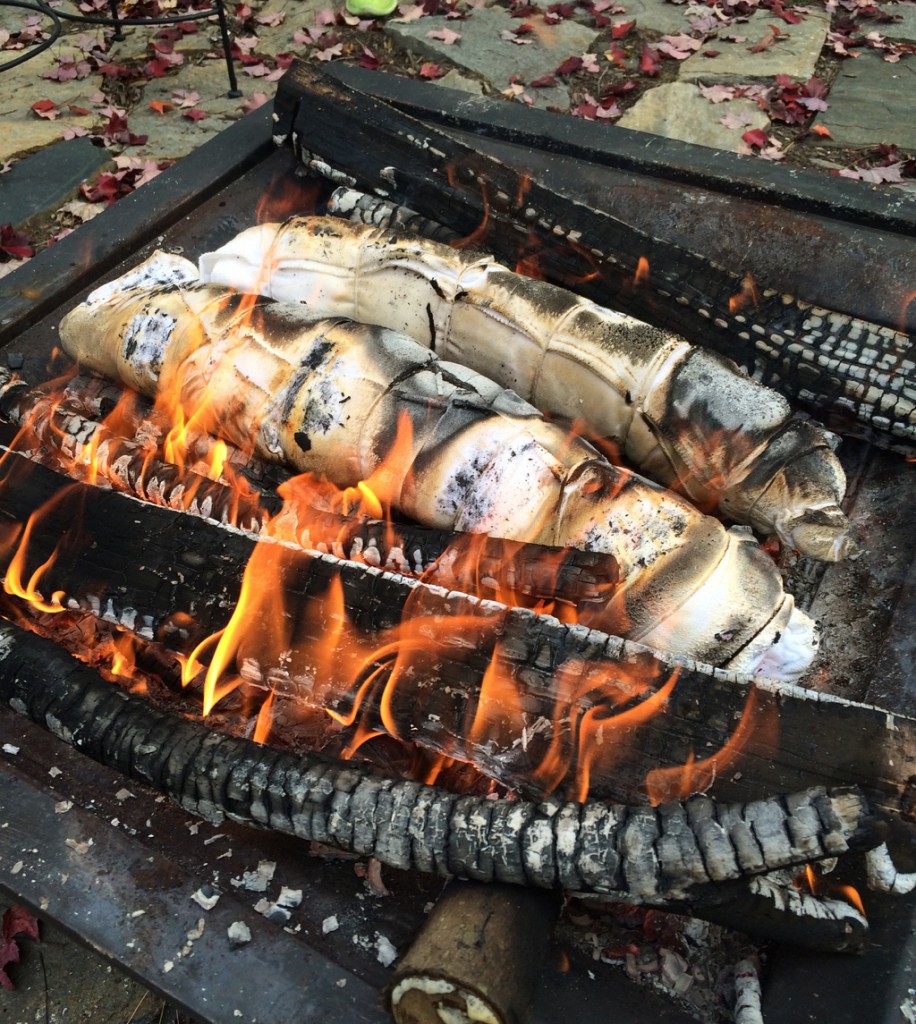 I always remove the cast fireside and take the unwrapped beef up to rest (10 minutes).  You can leave the cast on but you'll need to take it off at a lower temp to ensure you don't overcook it.
My thanks to Dr John for the excellent photography work - all photos in this round are his!
Ingredients
1 large cloth diaper (or tea towel)
3-4 lbs salt (just table salt)
1 whole beef tenderloin (5-6lbs)
Directions
Trim filet
wet diaper with cold water
spread salt evenly over diaper
spritz salt with water
roll tenderloin in salted diaper like a jelly roll
tie off every two inches
place in fireplace
turn after 10-12 minutes
remove from heat and carefully remove salt cast
let rest 10 minutes before carving
More delicious recipes
This one of the many fanastic recipes available on this blog