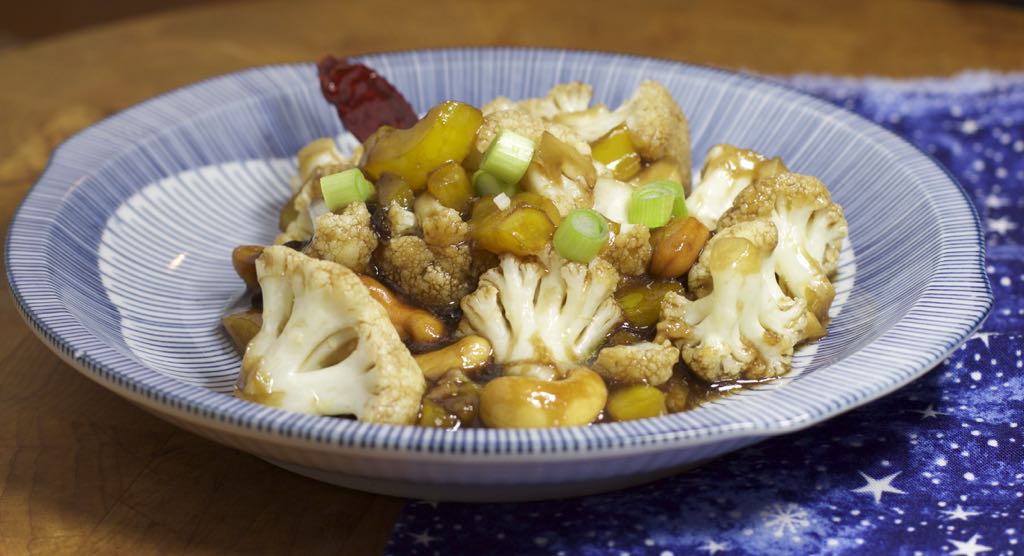 Kung Pao something - twice in one week, without premeditation and neither dish containing chicken must be a sign.  Early in the week I had Kung Pao Calamari.  The squid was dusted with Chinese five spice and topped with a gooey kung pao sauce.  The heat from the peppers mixed with a dash of vinegar, salt from the soy and crunch of the peanuts and the bite of scallions covered the nooks and crannies of the perfectly fried calamari.  It was a super successful dish (not from a gf/paleo perspective and I paid for it with a return of the wrist pain).
Friday night upon my return home we ate out at Ambrozia with friends from Asheville.  It was restaurant week in Asheville and the tasting menu featured Kung Pao Brussel Sprouts as a starter.  I'm a sucker for the Brussels and enjoyed them (as did all of my tablemates - thanks Sam!)
With dinner plans set for Saturday I played forward into Sunday when I would have the chance to experiment with  a Paleo friendly Kung Pao.  Kung Pao Cauliflower more specifically.
Kung Pao sauce is pretty straightforward to paleoize - substitute coconut aminos for soy and use arrowroot instead of corn starch as a thickener.  Honey replaces white sugar and  I've substituted cashews in for peanuts which in addition to being paleo friendly is not entirely out of the realm of authentic.
If you look at the ingredients we have hot, sweet and salty.  The acid from the vinegar makes it pop.
The sauce is so good I'm inclined to make it in bulk (without the nuts) and start putting it on everything.
(Pro Tip - tasting along the way is key to success in cooking.  It's easy for the salt to get away from you on this dish - my family are troopers for roughing it through the first take - although they are now super well hydrated :-)
Ingredients
Sauce
2 tsp coconut aminos (or soy sauce)
1 tsp arrowroot powder (or cornstarch)
3 tsp balsamic vinegar
1 tsp sesame oil
1 tbs chicken broth (veg broth or even water can substitute)
1 tsp honey
Dish
1 cauliflower, cut into small florets
1 tbsp oil (of choice)
1 bell pepper, chopped (optional)
10 dried red chilies (or 1/2 tsp red pepper flakes)
1 tbs garlic, minced
1 tbs ginger, grated
1/4 cup cashews (raw or roasted - preferably unsalted)
4 green onions, sliced thinly
Directions
Mix sauce ingredients in bowl and set aside
Heat oil in skillet
Add cauliflower
Stir fry for 3-5 minutes
Add bell pepper, garlic, ginger and chilies
Add Cashews
Continue stir frying until cauliflower begins to yield to fork
Stir in Sauce and stir
Sauce will thicken and become glossy
Remove to serving dish and top with scallions
More delicious recipes
This one of the many fanastic recipes available on this blog