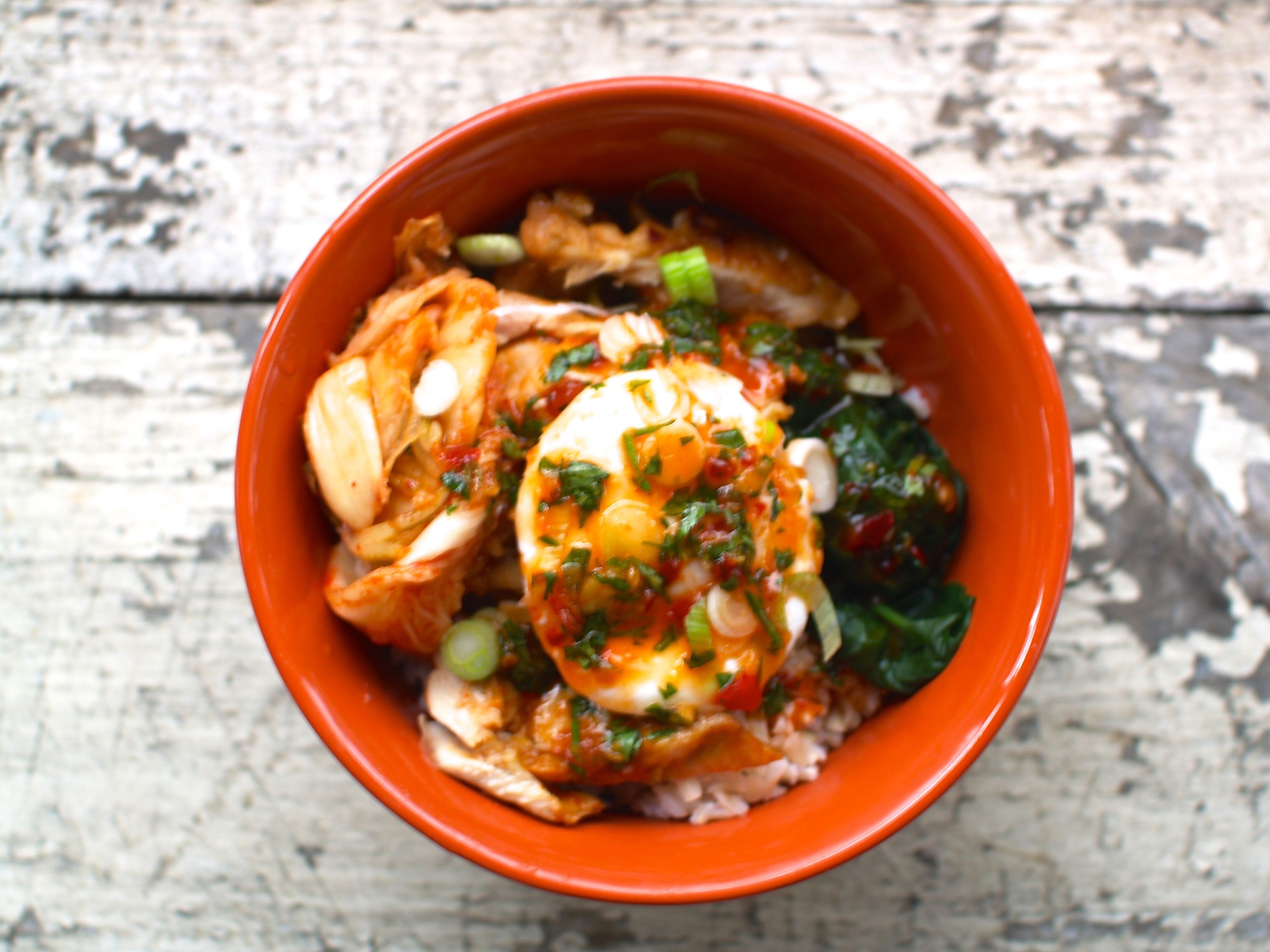 Rice bowls scratch almost every one of my culinary itches.  There is no shortage of variations on the rice bowl - rice + a protein + some veg - top with an egg and you have a one dish wonder.  Edward Lee serves up a spectrum of rice bowls in Smoke and Pickles: Recipes and Stories from a New Southern Kitchen.  He shows off beef, chicken, pork and fish variations on the rice bowl - all of which build on top of a base remoulade.  Rich but awesome.
The dish here  brings together a chicken based variation of Bulgogi (dak bulgogi = chicken instead of beef) along with a killer sauce.  The marinade for the chicken has a classic Korean flavor profile with the slight sweet of the brown sugar against the unmistakable nuttiness of the sesame oil.  The Ghochujang (Korean red chili paste) adds more fullness of flavor than any material heat.
The sauce morphs Thai Sweet Chili Sauce into a Korean inspired sauce with the addition of fresh citrus, more Ghochujang and some Sriracha.  I added chopped cilantro to this one in defiance of long held asian food boundaries.  I think the extra pop of flavor of cilantro with fresh citrus balances the deep, spicy base.  Feel free to add the word 'inspired' after every appearance of the word Korean in the recipe.
I used brown rice here - I'm not the biggest fan but the flavors of this dish push the taste of the rice to the background.  It's better for you and I'll put up the recipe/technique soon for how I make brown rice and learned to actually like it.
When putting this together you will need to choose how to prepare the egg that tops the dish.  I do not (YET) have a sous vide machine and were it that I did I would think that a 64 degree egg would be perfect here.  I'm partial to poaching eggs for rice bowls because in my mind it is the yolk that we're after - when the yolk breaks into the dish it provides another layer of richness and creaminess to the dish.  Truth be told though if I'm making rice bowls for the family meal or larger group I universally pan fry eggs.  It's easier (for me) to fry four or more eggs at time than managing the more delicate process of poaching.
Finally, and I should just come up with a standard paragraph to insert for every recipe - variations on this dish abound.  No spinach, steam some kale, have green beans or broccoli - steam them and toss with a dash of sesame oil.  Add carrots etc.
I would note that the sauce has a bit of fire - if you're not into heat and cut back on the Sriracha I would back down on the sweet thai chile sauce.  The Sriracha tempers the sweetness a bit - I'd be a bit concerned that the sauce would be too sweet otherwise.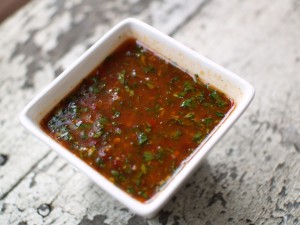 Ingredients
Marinade
3 Tbsp Soy sauce
1 Tbsp lemon juice
1 Tbsp Honey
1 Tbsp Brown Sugar
1 Tbsp Mirin
1 Tbsp garlic (minced)
1 Tbsp ginger (minced)
1 Tbsp sesame oil
1 Tbsp sesame seeds
3 Tbsp chili paste Gochujang (korean red chili paste) See supply list
Sauce
3 cloves garlic (minced)
1 Tbsp ginger (minced)
1/3 cup orange juice (about 1 orange squeezed)
1/3 cup lime juice (about 2 limes)
2/3 cup Sweet Chili Sauce See supply list
2 Tbsp Gochujang (korean red chili paste) See supply list
1 Tbsp Sriracha See supply list
Main Dish
1 lb chicken thighs (boneless/skinless)
1 bunch green onions (chopped, whites and tender green parts)
8 oz spinach
4 eggs
4 cups cooked rice (2 cups uncooked) - brown or white
Directions
You can pan fry the chicken in 1Tbsp veg oil for 4-5 mins per side. Grilling the chicken would work as well over a medium fire - the sugar in the marinade will darken so keep an eye on it
Cut chicken into strips or bite size pieces
Steam spinach in 1/4 cup of water - set aside
Poach or pan fry eggs (over easy if frying)
Assembly
Scoop a cup of rice into each serving bowl
Place some of the cooked spinach on one side of the bowl
Place one of the chicken thighs (cut up) on top of the rice
Place a cooked egg on top
Add Kimchi to the side if you like
Top with sliced green onions and drizzle a few Tablespoons of sauce over the whole bowl and serve
More delicious recipes
This one of the many fanastic recipes available on this blog