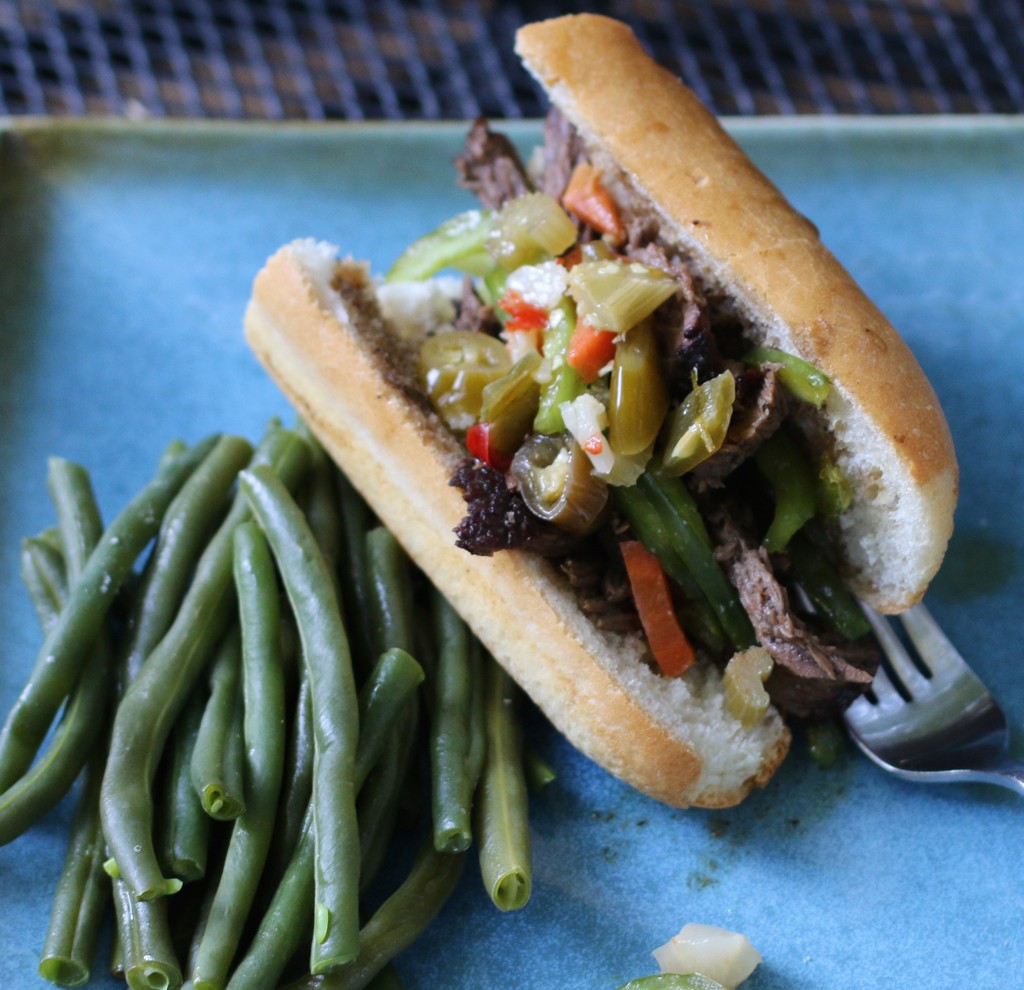 Listening to this week:
As part of my 'Fit by 50'™ program (walking every day) I've been tuning my podcast list.  I've recently added The Sporkful.  Each episode runs 20-30 minutes and Dan Pashman - the host - offers up adventures in food alongside his often contemplative and strong opinions on such.
Reading this week:
I've been reading The Third Plate: Field Notes on the Future of Food(http://www.ted.com/search?q=dan+barber).  The book expands on the content in both of his TED talks and the lush writing conjoined with vivid descriptions of his own farm and restaurant equals an enjoyable read.
One of Barber's central theses is chefs can lead the way for broader society back to fresh food, prepared simply.  The idealist in me wants to believe that.  Regardless of the growing awareness of fresh, in the hands of agribusiness and in the face of convenience the jaundiced pragmatist in me is more skeptical.
Italian Beef
As a child differentiating between jus and juice both conceptually and verbally was a challenge. I don't recall how often it was 'Italian beef' night as a child but I do remember my Dad arriving home from work with Styrofoam containers and a bag of rolls in tow. Each quart container was packed with thinly sliced née shaved Chicago Italian beef and jus. The beef was laid atop the open roll soaking in the jus until just a little bite in the roll remained. Italian beef night was so anticipated and revered and memorable. Until it wasn't.
There was no explicit decision that Italian Beef night was over but it was. The thing about Italian beef was that it was a takeout dish. The shaved beef was not cut by hand but on a slicer. The subtle hints of Italian seasoning in the jus were the result of larger scale restaurant cooking. In short, this was not a food that was a deeply ingrained aspect of our heritage, it was a dish found at the intersection of convenience and awesome. The awesome never left, but convenience was abandoned with the move East. Italian beef was left at the curb.
A few years ago my sister in law showed up bearing a large styrofoam box containing authentic Chicago style Italian beef. A pound of shaved italian beef, quarts of jus, peppers and rolls ready to drop in the oven. It didn't take long to be transported back to the days of my youth. The taste memory was so strong and complete.
[When fact checking this account with my mom she reminded me that my other sister in law brought homemade Italian beef to the beach several years in a row.  I have not cross checked with her on the approach but it will be interesting to compare notes]
It's no secret that I can recreate this tomorrow by putting an order in at Portillo's. Two days later that Styrofoam crate will arrive and the memories will begin again. I started working on a homemade alternative recently if only to pique my taste memories and to open the door to the potential of italian beef for my kids.
The first (and perhaps largest) barrier in making credible italian beef is the thinly sliced beef. Not many folks have a slicer like this PRIMO PS-10 Anodized Aluminum Meat Slicer, Belt Drive Transmission, 10" Blade, 23-25/128" Width x 12-115/128" Height x 16-3/32" Depth. Traditional italian beef is slowly cooked beef cooked until tender, cooled completely before shaving on a slicer and then reheating in jus. That's the order of business and you can't change it. Creating italian beef at home then has to be evocative of the original without the slicer coming into play. You may recall the recently featured barbacoa being described as latin pot roast. Could we do the same treatment with italian beef?
The answer is a resounding yes. The results won't confuse those that have had the real thing but the taste profile is very similar and the overall experience triggered the taste memory completely.
I oven roasted thinly sliced green peppers tossed in olive oil with salt and topped the sandwiches with store bought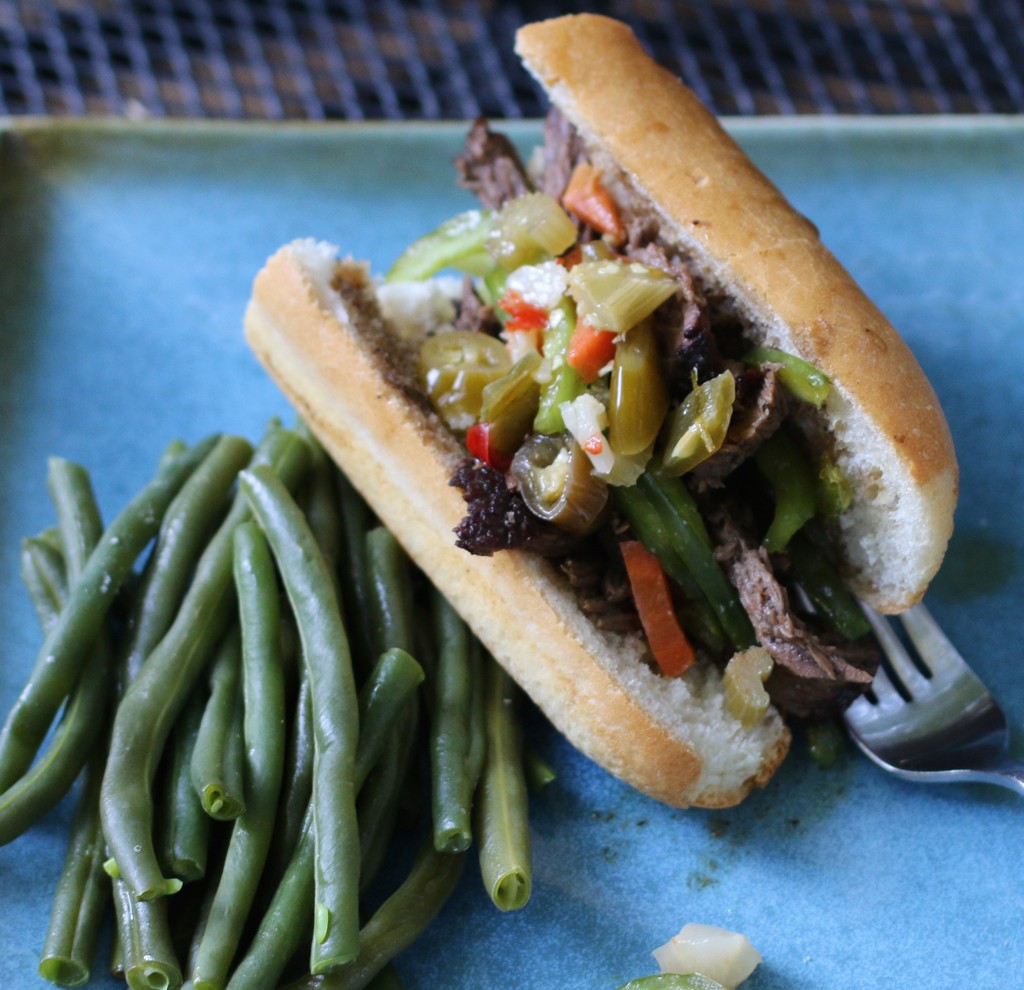 Ingredients
1 Beef Chuck Roast 3-4.5 lbs
1 onion, sliced thinly
4 cloves garlic, smashed
2 tbs oil
3 tbs Italian seasoning
1 tsp red pepper flakes
1 cup red wine (optional)
1 quart beef stock
Directions
preheat oven to 275
heat oil in large ovenproof dutch oven
brown chuck roast on all sides
(it's easiest here if you remove the roast after browning to brown the onions)
over medium high heat saute onion with oil in a large ovenproof dutch oven until soft
add garlic, italian seasoning and red pepper
add red wine and loosen any crusty bits
add beef back to dutch oven and add stock
cook for 4-5 hours until beef is fork tender (you should be able to shred it with a fork)
remove beef to cutting board
strain remaining jus through a fine strainer and return to dutch oven
shred beef removing excess fat and sinew
return beef to pot
if you can afford to let this cool and sit over night it will concentrate the flavors
bring jus to just short of boiling
Serving
Top sub rolls with shredded beef and then ladle jus over top of sandwich
Top with oven roasted green peppers and store bought giardiniera
More delicious recipes
This one of the many fanastic recipes available on this blog