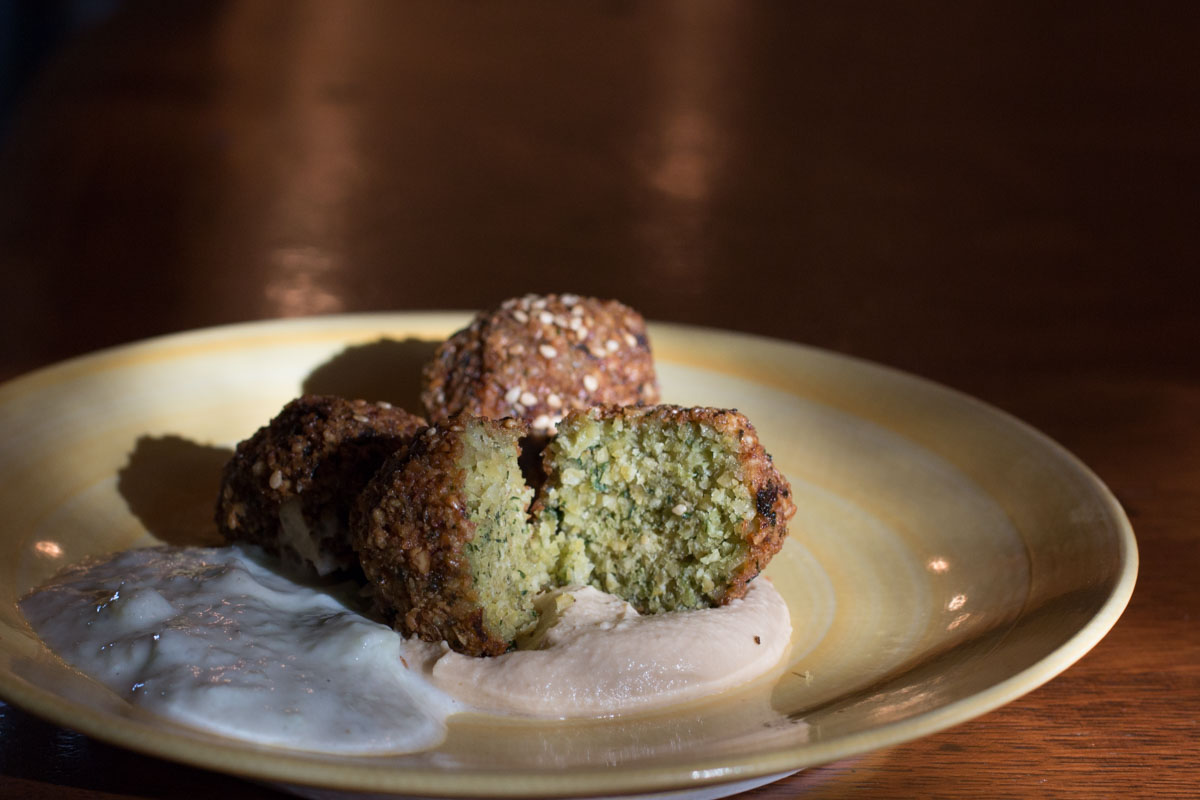 This post was supposed to go out last week but the Christmas rush interceded.
I have two distinct histories with Falafel, my eating history and my cooking history.
I excel at eating falafel.  I routinely choose falafel when offered yet I have rarely endeavored to cook falafel.  It's one of those dishes that I've always viewed as better eaten outside the home. (I did have that brief experiment when I made falafel waffles - inspired by this post on Will It Waffle.  You can find more recipes in Will It Waffle?: 53 Irresistible and Unexpected Recipes to Make in a Waffle Iron)
When approaching the making of falafel we are faced with a spectrum of choices:
Garbanzo vs Fava Bean vs Quinoa - Garbanzo wins here for soak only, no precook (as the fava would require) and more traditional than Quinoa
Green inside vs not - green, but modestly so - the fresh bite of parsley and cilantro add depth and delight
Sesame seeds on the outside or not - I split the decision and rolled about half in sesame seeds, the balance without As with all such decisions I will revisit and look to make the quinoa falafel in the future.
A few things that are key to successful falafel - use dried garbanzo beans and not canned.  I am a sucker for canned garbanzos for making hummus or adding to salads but in this case the moisture content of canned garbanzos is the enemy of a crisp exterior and overall binding of the mix.
Secondly, I used my newly acquired deep fryer to cook the falafel because, well, deep fryer.  In retrospect I would pan fry these and flip them half way through cooking.  Measure the oil to only cover the bottom half of the falafel.  Mine turned out crispy and not at all greasy but maybe too crispy.
Finally, I served these as an appetizer at a holiday gathering so went with a big bowl of Tzatziki Sauce and hummus for dipping.  You could serve these with a green salad with Feta and olives or stuff a pita with all of the above for that authentic falafel sandwich.
Ingredients
2 cups dried garbanzo beans
1 small onion - diced
3 cloves garlic - smashed
1/4 cup chopped parsley
1/4 cup chopped cilantro
1 tsp ground cumin
1 tsp ground coriander
1 tsp cardamom
1/2 tsp baking powder
1/2 tsp cayenne
2 tbs water
3 tbs all-purpose flour
For rolling after forming falafel
Directions
soak beans overnight, will double in volume
drain beans
add all ingredients (in batches) to food processor
pulse
let rest in fridge for 30 mins to firm up and absorb remaining moisture
form into small patty
roll falafel in sesame seeds (optional)
fry for 4-5 mins in 350 deg oil
drain on paper towels
Serve with Tzatziki Sauce and Hummus
More delicious recipes
This one of the many fanastic recipes available on this blog