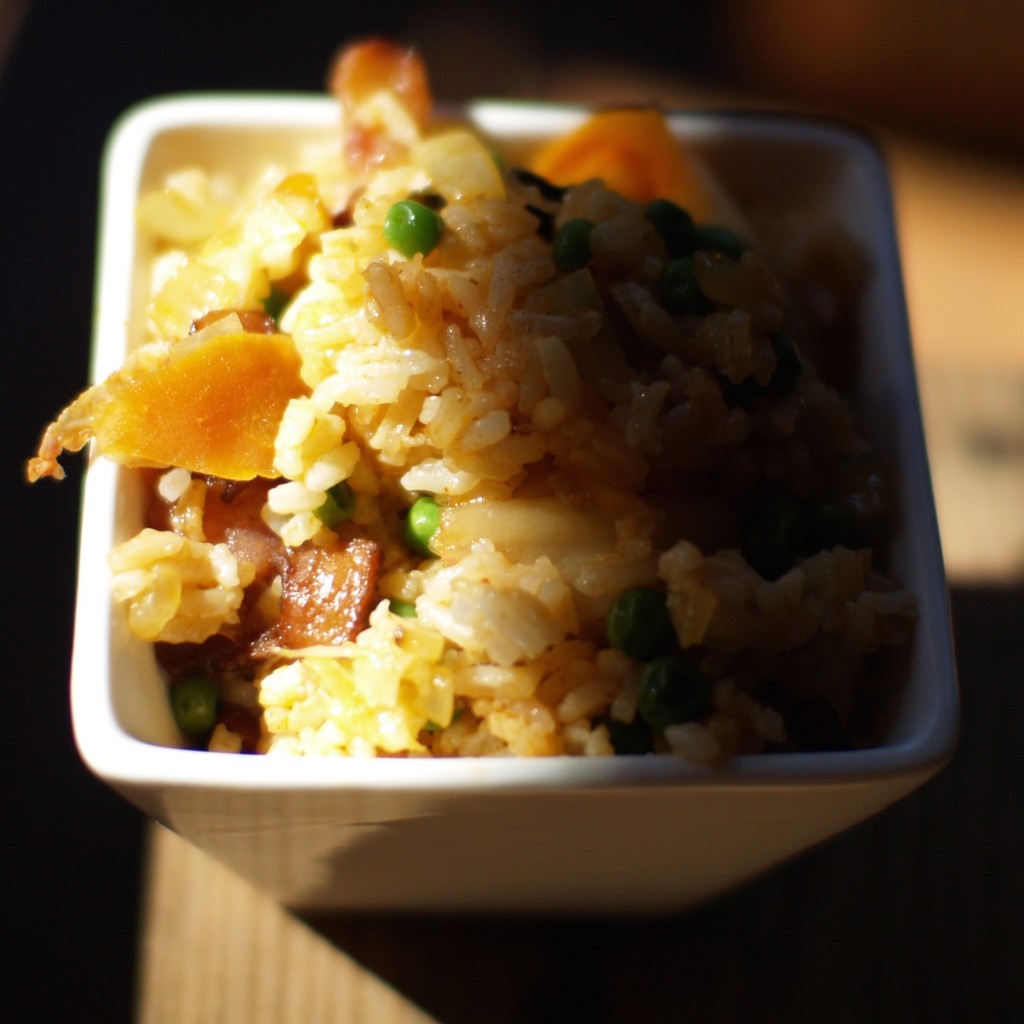 Autumn is in full bore in Asheville. The leaves have turned and as often as not we are greeted with brisk mornings and crisp and sunny but cool afternoons. My culinary bent in Autumn is to soups and stews and comfort food.
My son, Charlie was headed off to camp and climb this weekend while Mary, my daughter was hanging with us. Mary has a soft spot for rice dishes so my mind went to an awesome asian variant of arancini - the brilliant stuffed and fried Italian rice balls. My mind stayed there but my body protested after a week on the road. (and unbelievably another week has passed without the appearance of a FryDaddy).  Alas Kimchi Fried Rice emerged as the dish to make.
Bacon Kimchi Fried Rice is a rib cuddling, hearty, smoky, tangy take on fried rice.
We should talk about bacon.  I know you don't eat bacon regularly, or you've switched to turkey bacon and eat it often.  I am not judging - these are personal decisions that should be made in conjunction with your dietician and religious officiant :-)
I'm going to represent for bacon - the real thing.  When you walk down that aisle in the grocery store with Oscar Mayer Bologna, Kielbasa, Sauerkraut and the occasional Pimento Cheese you  look past the array of hot dogs including those colorful red ones and spy the rows of bacon.  Ouch.  The national brands are luring you in with a BOGO or $1.27 off discount.  You are drawn in by the allure of smoky pork - but giving into the bargain bacon buy will inevitably result in a pot full of grease (good if your into bacon popped corn) but not much else.
I recommend a thick cut bacon with firm fat - not the watery dreck in the bargain aisle.  If you can find Nueske's bacon (Fresh Market in my area carries it as their applewood smoked bacon) you are actually saving money.  I had a happy accident around Thanksgiving time two years ago when my lovely wife came home with five - that's right F. I. V. E. pounds of Nueske's bacon after some miscommunication.  Five is now my favorite 'F' word!
I could wax rhapsodic on bacon at length but back to the matter at hand.
David Chang's Momofuku offers up a great recipe for Kimchi Fried Rice - the crunch of the kimchi and the tangy bite of kimchi juice meets the salty bite of the bacon.  There are a lot of variations on this dish that preserve that Korean fusion trinity - add carrots and peas, scramble an egg into the dish or serve a fried egg atop - they are all winning combos.
Fried rice is a simple dish.  The key is using aged rice.  The lingering moisture of freshly cooked rice has been absorbed allowing the rice to brown when fried.  When I cook fried rice (or know that I'm going to) I fire up the rice while making the morning's coffee.  25 minutes later the rice is set off to cool and by the time I leave for work put up in the refrigerator.
Finally, success in making fried rice at home is cooking the ingredients in batches and then assembling for a final toss to meld the flavors.  Cook the onions and carrots first - remove to rest, then the eggs.  Cook the bacon, drain from the pan and set aside.  The rice goes in over high heat - the goal is to carmelize the grains of rice and achieve some crunch.  As the rice fries, you add in the other ingredients and toss with the sauce.  The pan stays hot throughout and every ingredient gets the right amount of frying.
Enjoy.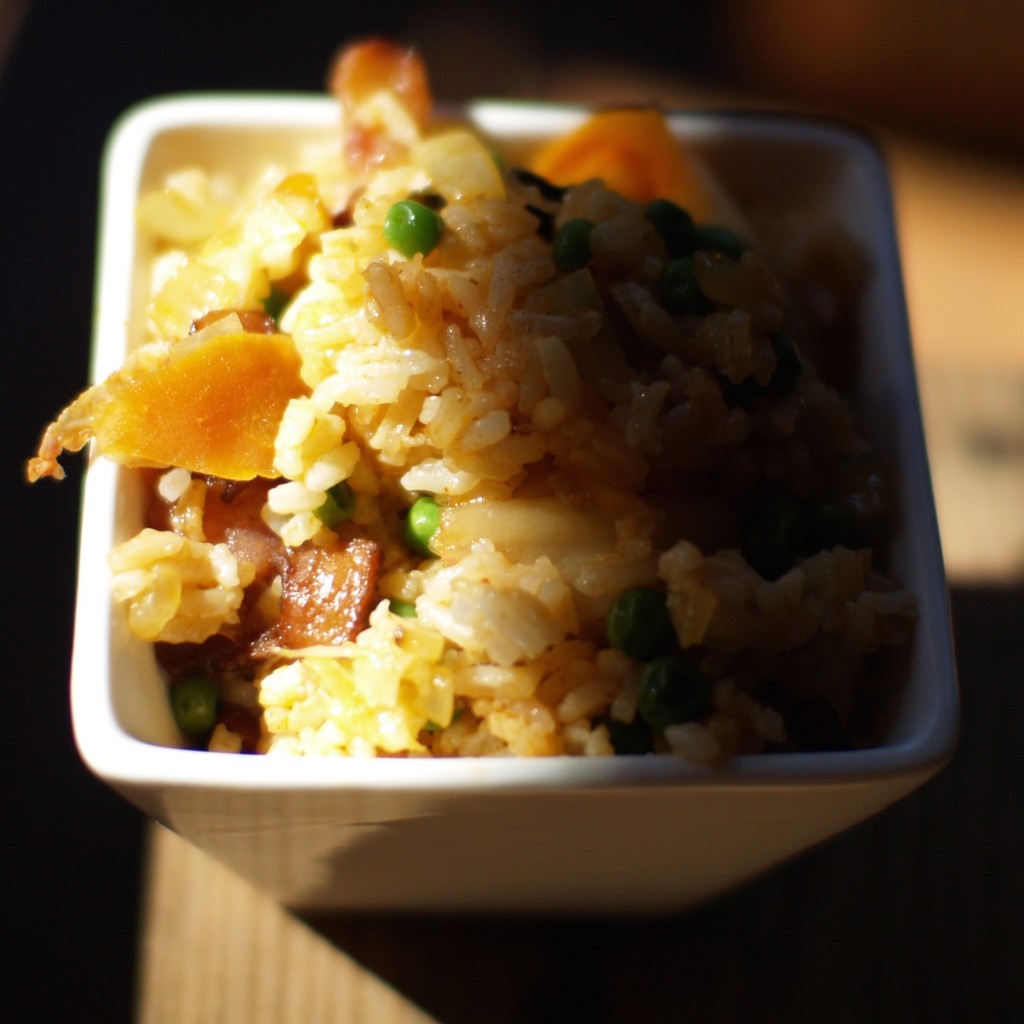 Ingredients
4 cups cooked rice, cooled
1 medium onion, diced
2 carrots, shaved
3 eggs
1/2 lb high quality bacon, cut into 1/4 inch slices
2 cups peas
Sauce
4 tbs soy
1 tbs Gochujang (korean red chili paste) See supply list
3 tbs kimchi juice
Directions
In a cast iron pan or wok, heat 2 tbs oil over high heat
saute onions until translucent, remove to a bowl
stir fry carrots until browned and remove to bowl
quickly toss eggs until cooked through and remove to bowl
stir fry bacon until browned and drain with slotted spoon to a bowl
stir fry rice for a few minutes, tossing to coat each grain of rice
add sauce and toss
add peas and remaining ingredients back to pan and toss
More delicious recipes
This one of the many fanastic recipes available on this blog