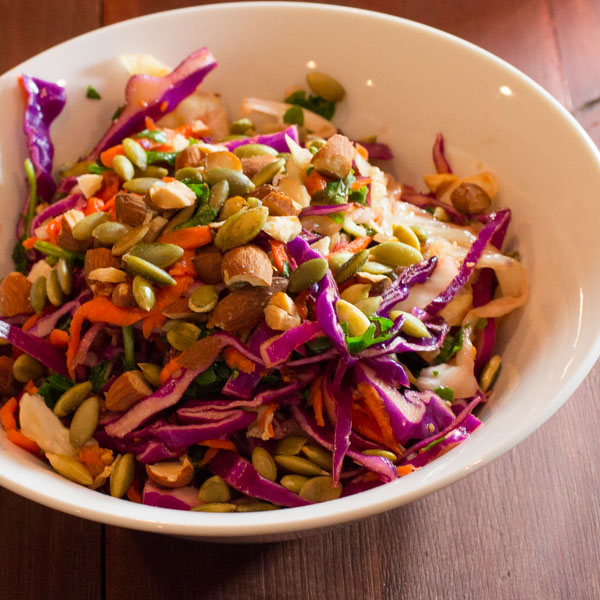 I am a sucker for the _Brassica _family - cabbage, cauliflower, kale, broccoli, etc (kohlrabi anyone)?  While I enjoy the occasional mayo based coleslaw (KFC copycat) I almost always make slaws using an acid (lemon, lime, wine vinegar) and an assortment of spices.  Boiled vinegar slaw (for which I must publish my recipe) ranks high in the 'traditional' slaw genre.
That said, I'm often making slaw to top burgers (bulgogi burgers with Korean chili slaw) or a taco topper.
Last night I had some time to throw on some bbq chicken and had some cabbage, kale and other sundries lying about.
Although the chicken was good (my boy-man son ate three pieces) the slaw was memorable.
In particular, the dressing includes a sprinkle of red chili flakes which provide a bit of zing against the nutty sesame oil and the tart of the lime.  I topped the salad with a mixture of chopped almonds and roasted pumpkin seeds just before serving and the additional crunch makes this a winner.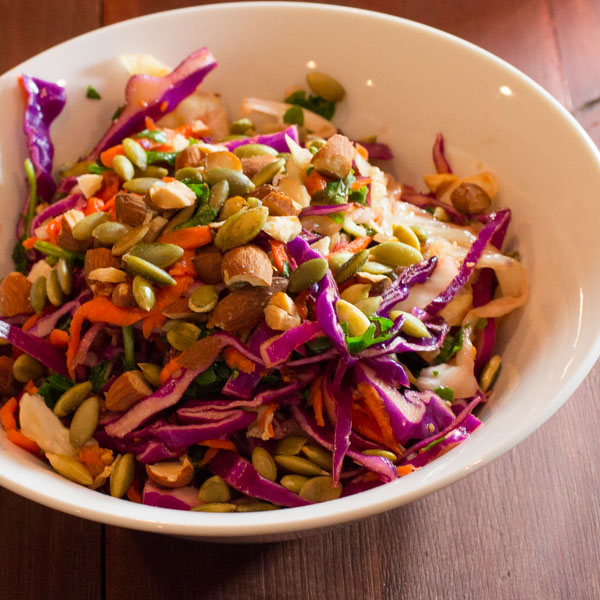 Ingredients
Dressing
3 tbs soy sauce
3 tbs rice wine vinegar
1 tsp sesame oil
1 lime zested and juiced
1 tbs honey
1 tsp red chili flakes
3 cloves garlic minced
1 tsp ginger grated
Slaw
2 cups baby kale - chiffonaded or coarsely chopped
2 cups red cabbage - roughly chopped
2 cups green cabbage - roughly chopped
3 carrots - shredded
1 bunch green onions - sliced
Topping
1/4 cup chopped almonds
1/4 cup roasted pumpkin seeds
Directions
Dressing
combine all ingredients in a bowl and stir well to incorporate honey
Slaw
Toss all ingredients in a large bowl
Mix with dressing.
Stir well
Let sit 30 mins, tossing occasionally
Serve
I mixed the nut topping and served it in a bowl alongside the slaw. I topped each serving of slaw with a tablespoon (or two) of the nut mixture
Keeping the nuts out of the slaw will ensure that leftovers are not littered with soggy nuts
More delicious recipes
This one of the many fanastic recipes available on this blog