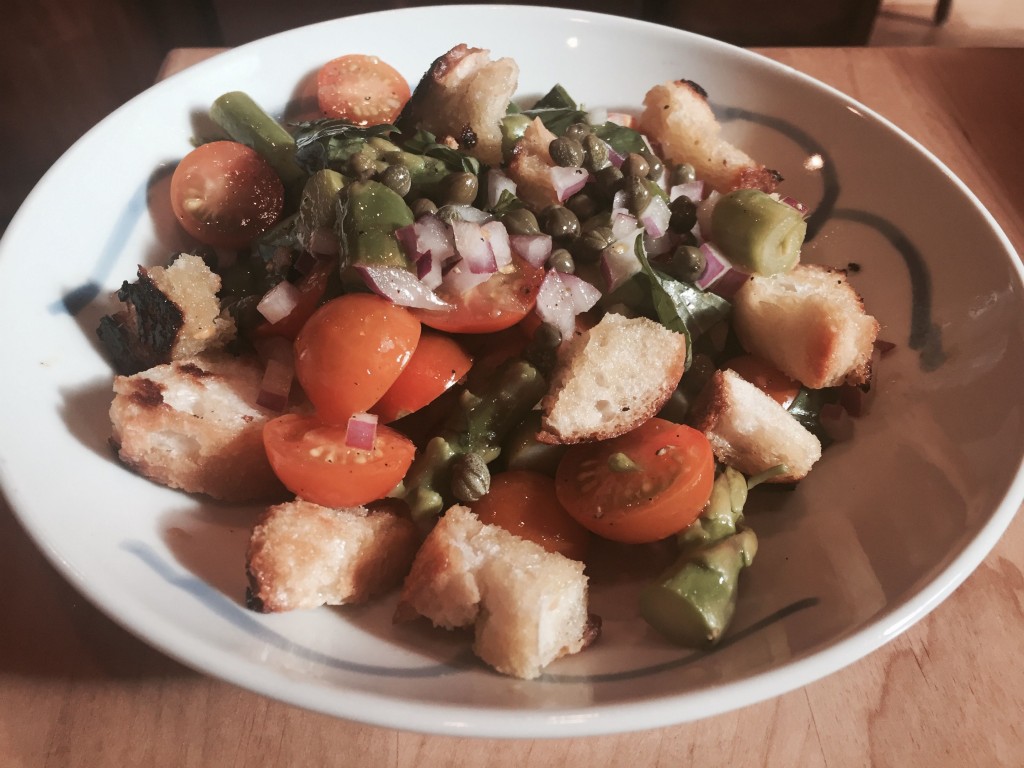 The bounty of summer is upon us (and has been for some time).   That means lots of salad
Currently Reading
I am still reading  Lesser Beasts: A Snout-to-Tail History of the Humble Pig(http://markessig.com).  As is often the case I'll have several books going at once.
I'm wrapping up The Martian.  As part of my attempt/commitment to get healthier by 50 I've been walking for at least 30 minutes every day.  Listening to a well narrated audio book and in particular those with a good story line makes that a largely effortless endeavor.
The Martian is science fiction for sure so may not appeal to all but it has an emphasis on engineering verisimilitude - e.g. very realistic or at least plausible descriptions of the efforts of an astronaut stranded on Mars and his efforts to survive.  Think McGyver on Mars if that's your kind of thing.
Recently Watched
My lovely wife and I were seeking refuge from the heat recently and escaped to the basement for a mid-afternoon show.  The Netflix queue had this gem from Dan Barber wherein Dan talks sustainability, the cycle of life, the value of symbiosis in agriculture and the happy place of food that has taste and is sustainable.  Totally worth the 18  minutes.
Panzanella
And on to the matter at hand.  Panzanella is a traditional Italian (Florentine in origin) salad made with stale bread, oil and vinegar, tomatoes, onion and basil.  Perhaps too simple to even post a recipe for.
I suspect as with Pasta Fagioli that panzanella was borne out of frugality.  What does one do with a leftover heel of bread?  Soak it in water or add directly to oil and vinegar and let it soak up enough liquid to become edible again.
As with many recipes on comestibl.es we can take the inspiration of panzanella and present variations.
The goal here is to celebrate the clean flavors of the ingredients.  Tomatoes are the star of the dish while shaved red onion provides a contrasting bite.  The pop of basil offers up its refreshing fragrance and the vinegar accentuates the flavors in all.
If you're staying traditional, mix this up and add stale bread and you've put an entire summer meal on the table in 15 minutes or less.
Never content with the basics I generally opt for intentionally crisped bread in the form of homemade croutons (olive oil sautéed bread) and an assortment of other garden fresh vegetables.  In the most recent making lightly steamed asparagus was chopped into the salad and topped with a healthy dose of capers lending an acidic and salty crunch.
A few other notes:
vinegar choice - I have to admit that I may be the male Imelda Marcos of vinegar.  My cabinets abound with varieties of vinegar, balsamic, white wine, red wine, with fig, aged, malted, rice wine, white and apple cider.  Were I to reclaim the collected minutes of perusing the vinegar aisle in the market I'm sure that I could reread War and Peace or Ulysses.
I opted for a nice red wine vinegar here - I generally prefer the crisper mouth feel to a nice balsamic.
Don't be bound by tradition here.  Almost all veg lends itself well to becoming your panzanella.
Ingredients
Dressing
1/3 cup red wine vinegar
2/3 cup olive oil
salt to taste
Salad
2 cups bread cut into chunks
2 cups tomatoes cut into bite size pieces
6-10 leaves of basil, fresh, torn
1/2 red onion, finely diced
1 bunch asparagus
2 tbsp capers
Directions
Toss Bread in olive oil and sauté in pan until crisp, the less movement the more color you'll get
Steam asparagus for 5-7 minutes. Test with fork and run under cold water when a fork begins to easily penetrate. Goal here is to retain crispness.
Chop asparagus into 1 inch pieces
Mix remaining salad ingredients in large bowl
Add croutons and toss again
Top with enough dressing to coat ingredients without swimming in dressing
Serve and enjoy
More delicious recipes
This one of the many fanastic recipes available on this blog