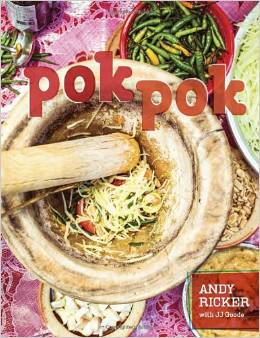 It should be obvious that I'm a huge fan of Asian cooking and Thai food in particular.  Andy Ricker has given over much of his life to traveling through Thailand and turning that knowledge into a very successful Portland (and now NYC) based restaurant.  Pok Pok meets all of the criteria for me purchasing a cookbook versus searching online for a recipe (as described here).
Ricker's journey from international vagabond/DJ/house painter to James Beard award winning chef is laid out and woven through stories of his travel - particularly in Northern Thailand.
What makes this cookbook special is Ricker's attention to creating these dishes using ingredients available in the West.
And I've at last deciphered a recipe, a way to replicate real-deal Thai flavor using ingredients available in the West.  But more important, I've figured out a way to communicate the techniques and flavors… Ricker references David Thompson's [amazon asin=1580084621&text=Thai Food] which is widely viewed as the authoritative Western treatment of Thai Cuisine.  Thompson's work is worth owning both for the rich history of the cuisine and the overall comprehensiveness - but can be seen as inaccessible - both for it's sheer volume and the sometimes challenging to find ingredients.  So Ricker consciously limits himself to about 70 recipes and clearly spent time and energy on recipes that although sometimes involved are recreatable using available ingredients.
The availability of 'foreign' ingredients continues to improve with grocery stores making room for Sriracha, Lemongrass, Fish Sauce and Curry Pastes.  It can be intimidating though to get started.  Ricker offers this up:
To the problem of lists full of seemingly strange ingredients, one big shopping trip is the solution.  Once you build up even a modest pantry, cooking this food becomes infinitely less onerous I would further qualify that with 'one big shopping trip_ to an asian market_'.  Most of the staple ingredients for Thai or other Asian cooking will last in the pantry or refrigerator for a considerable time.  It significantly lowers the bar for taking on a new recipe.
Two other things are striking about the book.  Ricker highlights the targeted flavor profile for each recipe - the recipe for Naam Tok for instance is: Spicy, Tart, Aromatic, Salty, Umami-rich.  How cool is that?  Having eaten Naam Tok many times I would would have picked spicy, sour, salty.  For a cuisine with which you are unfamiliar this is invaluable.  For a cuisine with which you have experience, qualifying the flavor profile of a recipe contributes mightily to your understanding of how dishes come together and ultimately what ingredients or techniques contribute which elements of the flavor profile.  Seriously, this is the thinking part of cooking.
The second key takeaway for me is Ricker's view on authenticity:
The words imply absolute an absolute cuisine, that there is one true Thai food out there I love that.  So often we have associate authenticity with that with which we are familiar.
Ricker provides more advice on both the mental and physical aspects of cooking:
A key to successfully cooking unfamiliar food is denying some of your culinary instincts and on the use of a mortar and pestle: When you first add an ingredient to the mortar, add it to the center of the mortar and pound firmly to flatten… It sounds obvious but until and unless you've had your ingredients shoot all over the kitchen when making a curry paste how else would you know this?
I've included a run down on a few of the recipes I've tried below.  I've learned something new from every recipe - those I've tried and even those that I've simply read.  Some people have a fantasy football lineup worked out, I have an 'on-deck' lineup of need to try recipes.  Several of the top spots are occupied by fare from Pok Pok.
Finally, I will inevitably have to add a Tao - a Thai Charcoal stove/grill - perfect for either high heat wok cooking or grilling meats to my grill arsenal at some point.  I am fortunate to have high output gas burners on my stove but seriously it's for the benefit of learning.
You can find this in most major bookstores or online at Amazon [amazon asin=1607742888&text=Pok Pok]
Recipes
Kai Kaphrao Kahi Dao
Pad Ka-prao is for me an acid test for Thai cuisine.  If I'm trying out a new Thai restaurant I'll order this first.  Pad Ka-prao is stir-fried chicken with basil.  The use of Holy Basil provides an aromatic twist that differs from traditional sweet basil.  The fish sauce offers up the salty contrast to the thai chile spice and a touch of sugar provides a nominal sweetness.  Pad Ka-prao is the essence of simplicity in Thai cooking.
Ricker delivers a recipe that captures this essence completely.
I've been making Pad Ka-prao for some time and this recipe has now become my goto recipe. (although TBH I largely make this one from memory)
Neua Naam Tok
Naam Tok gets regular rotation in my summer cooking lineup.  The contrast of freshly squeezed lime juice, mint, and lemongrass against the char of grilled steak and bite of shallots or red onions and chile yields up a refreshing, pay attention to your mouth dish.
The one element that I had never executed on until reading Pok Pok was Toasted Rice Powder.  I've eaten Naam Tok with toasted rice powder before and it contributes a bit of crunchy, nutty, toasted texture to the salad but when making it at home never really missed it.  The recipe for toasted rice powder is in the book and is so simple and adds another layer of depth to the finished product that I won't make the salad without again.
Phat Si Ew
This was the first recipe that I tried after reading Pok Pok.  My daughter's relatively low tolerance for heat and her love of Lo Mien makes Pad See Ew a perfect dish - I sell it as Thai Lo Mien and everyone is happy.
I haven't found a local source for fresh rice noodles and have not (yet) endeavored to make my own so I followed the path I usually use when making rice noodle dishes - blanch the rice noodles in a pot of hot water for 15-30 seconds and drain well.  The draining part is essential because the hallmark of Pad See Ew (and Lo Mien for that matter) is high heat cooking of the noodles which contributes some char to the finished product.  Wet noodles don't char.
I substituted chicken for pork and used Broccolini (because I had it) but baby bok choy quartered length wise would have been another reasonable substitution.
[bling]